eCommerce: Becoming a true online business
Are you interested in taking your business online? Download our free guide to get some best practice tips on how you can grow your business by selling products online via an eCommerce store.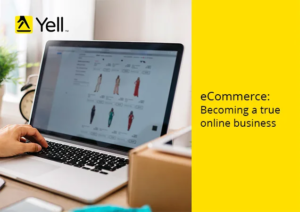 With more and more people choosing to shop online rather than on the High Street these days, there's never been a better time to take your business fully online, selling products and services via an eCommerce website.
eCommerce websites not only widen your reach beyond the physical location of your business, they also mean you can trade 24/7, helping you connect with the growing number of customers who prefer to do their shopping online.
We've put together a free guide which aims to take you through a few key topics which should help make your move into the world of eCommerce a success, including:
Find out how to structure your website in a way that makes it easier for your customers to find your products
Understand the power of conversational commerce to help engage and convert website visitors
Discover some marketing tactics that can help recover lost sales opportunities
See how combining an online store with an effective email campaign can build new revenue streams