What is a franchise? For would-be entrepreneurs, a franchise is a self-employment business opportunity.
You start your own company trading under an established brand with guidance and support on everything from marketing to financial planning to HR.
For small business owners, franchising is a way to expand more quickly and cost-effectively than opening further company outlets, by granting people (franchisees) the right to run their own business under your brand and systems. Legal safeguards are in place to maintain brand control, consistency and protection.
How does it work?
Franchising is like having a business blueprint. The idea is that the franchisor (original business) has gone through the process of establishing the brand, gained customer loyalty and, through experience, learned how to scale up the business.
Franchising shows someone else how to replicate that success. Domino's or Subway have a proven track record, and if you've ever ordered food at these places in the UK, then the store you used was run by a franchisee, not a corporate brand. They're responsible for the staff and the products, but they operate using a bigger brand.
Many other well-known brands are wholly or partly franchised, such as Clarks Shoes, Thorntons, O2, Water Babies, Marston's, Toni & Guy and McDonald's. There's also an array of growing companies in just about every sector, from gyms to sports tuition and pet care to hair care, car care and health care.
"You'll also need a great brand and differentiation of some kind in your market"
Franchisees pay a fee to start their business, and monthly royalties thereafter (most commonly a percentage of turnover but a mark-up on goods supplied or flat fee are other options).
In return for that, they receive comprehensive initial training and ongoing support whenever needed from the franchisor. Whatever situation a franchisee faces, they can turn to head office – as well as any other franchisees also in the network – for real-life advice and help on how to overcome a challenge.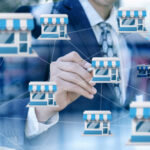 When ready, the franchisee can sell their business to a buyer approved by the franchisor, so they are building an asset for the future as well as being self-employed.
What are the criteria for franchising a business?
At a fundamental level, to be franchised your company needs to be:
Proven – not an idea, but demonstrable evidence of success
Profitable – at a sufficient level for both franchisor and franchisee
Teachable – there's no point in franchising a business that only three people could operate
Transferrable – suitable for different geographies (a surf shop in Leicester isn't a great plan)
You'll also need a great brand and differentiation of some kind in your market. And it's important that your business has a long-term appeal, rather than being a temporary fad.
Why do businesses franchise?
Broad advantages include:
Faster expansion
If care is taken to set the franchise up properly from the beginning then growth can be as quick as the time taken to find, on-board and properly support franchisees to grow
Lower capital outlay
Once the model is established, expansion comes mainly through the investment of franchisees, meaning it costs much less to grow
Leaner ongoing costs
A franchise head office supports its network of business owners through a team of staff, but franchisees employ each outlet's staff, maintain accounts and so on
Better performance
Because they have a vested interest in the business, franchisees will do what it takes to succeed, as opposed to a manager who is largely rewarded the same regardless. Retailers have reported as much as 30 per cent turnover growth after converting a company-owned store to a franchise
Strength in numbers
The best franchise brands are those that successfully integrate franchisees as a collaborative network of business owners, harnessing the considerable power of shared know-how, experience and ideas from a group pulling in the same direction.
How does the relationship work legally?
A franchise agreement is signed between franchisor and franchisee once both parties are satisfied it's the right match. That's very important – joining a franchise should be a two-way due diligence process, with time taken and clear heads. Selectivity is crucial on both sides for success.
The agreement is a legally-binding contract that sets out the rights and obligations of both parties. It is essential for franchisees to have it reviewed by a franchise solicitor before signing.
Most are for a five-year period with the right to renew, but some premises-based franchises offer ten-year agreements or even longer. The documents can be lengthy, with clauses covering just about every aspect of the relationship from start-up to eventual sale.
For franchisors, this document protects their IP, business model and brand from misuse, alongside an operations manual which outlines the day-to-day running of the business by the franchisee.
What are the advantages of becoming a franchisee?
Someone else has gone through the trial and error period (and associated costs) of establishing and growing the business; you should be left with what's proven to work
Statistically better chance of self-employment success: annual franchisee commercial failures rates are under 5 per cent and around 90 per cent report profitability
Back-up on any aspect of running the business from experienced people
Access to technology that an independent wouldn't thanks to economies of scale
Being part of a bigger brand, generating recognition, loyalty and expectations
Shared experience and knowhow, from both the franchisor and other franchisees.
What about the disadvantages?
There are systems that must be followed; if you're looking for complete independence, franchising isn't for you
Policies and procedures are set by the franchisor and must be adhered to
You'll pay ongoing fees to the franchisor
Your business operates under the same brand as others, which means they could tarnish it.
What's involved in franchising a business?
Franchising doesn't happen overnight; it requires an investment of time and capital to get it right from the outset.
A good franchise model is bespoke to each business; templates or boilerplates could seriously harm your brand and should be avoided at all costs. This is particularly true of the franchise agreement, which is the heart of the protection for the brand you've given blood, sweat and tears to grow. Do not try to cut corners with it.
That said, there are common steps involved in franchising. They include a detailed business plan; ensuring IP protection and trademarks are in place; instructing a franchise solicitor to draw up an agreement; creating an operations manual, which covers the day-to-day running of the business for franchisees; a comprehensive training programme for new franchisees; a marketing strategy to find and recruit franchisees; and eventually setting up a pilot franchise, with an outlet run 'at arm's length' as a franchisee will, to hone the model before you go to market with it.
Franchise development consultants can help with some or all of the process, and will often offer a free initial meeting to discuss viability. Taking the right advice from a British Franchise Association (BFA) accredited consultant is important, they have proven their understanding of best practice and have a track record of helping businesses franchise.
What is a franchise? It's a business opportunity that is tried and tested and could well be the right fit for you. To find out more on becoming a franchisee or franchisor, visit the BFA website for impartial advice.
Pip Wilkins is CEO of the BFA. 
Tips from a successful franchisee
Anna Jordan talks to Jim Haran, franchisee of BBX UK. He originally started out as a customer of the company and became a franchisee of the business after bartering over £500,000 worth of goods through the platform.
Jim and Mary owned a florist and were one of the first wave of BBX's customers. After Mary retired last year, Jim had enjoyed working with BBX so much that he went on to purchase the Essex District and Sales franchise at BBX.
I was particularly drawn to the model of the business and everything associated with it. Great opportunities are presented to you and as long as you put in the work you can grow and develop the business as much as you want.
I was a customer of BBX with my florist business before becoming a franchisee and found that it added about £500,000 to the value of our business, meaning that my wife was able to comfortably retire. It made a huge difference to our lives and I saw the benefits for potential customers.
Bartering leading to becoming franchisees
Not only did I see first-hand the benefits that bartering could bring to SMEs, I also knew the system in detail and I knew the challenges that could face clients.
With my first-hand experience as a customer of BBX I knew that my input would be valuable as I was able to see the business from all perspectives. The business is there for you to develop and change and adapt as long as you put in the work to do so.
Choosing a franchise region
Choosing a region was quite an easy decision for me. I decided to take over the Essex region as this is my heartland. I already have connections with many businesses in the area so when the franchise came up for sale, I jumped at the opportunity. Being just down the road allows me to be quite flexible with work.
I was fortunate when taking over the Essex franchise as the business was already well-established when I went in and had pre-existing customers and an awareness in the region that was extremely helpful for me when starting out.
"You are given back-up and support from the main franchisor, so you're never left hanging"
The franchise very much has a family feel and the previous owners are still involved. I always appreciate their input and their thoughts on business challenges and issues that we face along the road.
Advice for hopeful franchisees
Do your homework. Many people think that taking over a franchise is simply purchasing a ready-made business but this simply isn't the case. When deciding which franchise you want to be involved with, look for what input you can have on the business, what you can bring to them and what you can do to drive the business forward.
From my perspective, franchising is safer than starting up your own business as long as you're prepared to put in the work and don't expect success to come quickly. It's a tried and tested model and you are given back-up and support from the main franchisor, so you're never left hanging if there's a challenge.
Once you've decided to go ahead with becoming a franchisee make sure that you utilise their support and advice.