A government-backed sustainability programme, inspired by the Eden Project, has launched for SMEs in the West of England.
The Planet Mark is launching The Planet Mark Start! at an event on 16th May 2019 with a key note speech from Rt Hon. Claire Perry MP, the government's minister of state for energy and clean growth.
What is the project about?
The Planet Mark Start! is a free sustainability programme aimed at businesses in the West of England. It offers guidance and advice on how SMEs and start-ups can reduce carbon emissions, cut energy bills and become environmentally sustainable.
After they take local action to enhance their sustainability, companies are awarded formal accreditation that demonstrates their commitment to taking global climate action to suppliers and customers.
Mike Harris, project manager for The Planet Mark Start!, said: "81% of customers want to buy from an environmentally-focused company. Business sustainability is a global issue that must be tackled locally."
One of Planet Mark Start!'s biggest success stories is the Young Entrepreneurs Networks Association (YENA), a Bristol-based online platform and acceleration community for start-ups.
Ash Phillips, the company's founder, said: "We believe that any business – for profit, or not – should care deeply about the impact it has on the world. We refuse to run a business that has a net-loss on the environment and the people within it."
Get involved
The event takes place in central Bristol on 16th May from 5pm – 8pm. It's fully-funded and open to SMEs, start-ups and entrepreneurs in the West of England (Bath and North East Somerset, Bristol, North Somerset and South Gloucestershire).
Attendees will hear from Claire Perry MP and Planet Mark-accredited company, British Corner Shop, a Bristol-based online supermarket with an international reach. Register for the event through Eventbrite.
Five ways to rework sustainability into your business goals
If you're not based in the West of England, there are still plenty of other ways to get greener. Here, Aidan Bell of EnviroBuild shares five ways to boost sustainability in your business.
Small businesses cannot afford to neglect environmentally-friendly policies.
Rises in extreme weather events are putting businesses at risk, as interconnected supply chains and insurance protection gaps are increasing. Globalisation has also brought increased competition across all industries and businesses have never needed to differentiate themselves, and cut costs, more than today.
A recent report published by Cambridge University found that 56% of their network believed businesses would lead the way in taking direct action towards sustainability.
Rapid advancements in technology are reducing inefficiencies, thereby cutting both cost and environmental impact. Equally, consumers are becoming increasingly conscious of how their purchasing decisions contribute to their carbon footprint and are seeking out businesses that support them in their goal to lead a less wasteful life.
Here are some tips for how small businesses can rework sustainability into their business goals.
Reduce waste
Many small businesses still use lots of paper. Whether it's handing out promotional leaflets, printing out reports and agendas or signing forms, paper is certainly one of the most used materials in business.
Every year In the UK alone, the number of trees cut down to match paper consumption equates to a woodland the size of Wales. Not only is this incredibly unsustainable in the long-term, the energy needed to produce, transport and recycle paper quickly adds up.
To reduce paper consumption, consider setting printers and photocopiers to print double-sided. This small change will already cut an SME's paper waste in half. Equally, printing leaflets to support a marketing strategy is hardly the most effective way of getting a business in front of its target audience.
As consumers increasingly spend their time online, investing in digital marketing is good both from a marketing standpoint and a sustainability standpoint. There are many free tools available for SMEs looking to build a social media following or rank highly in Google, all of which replace the need for paper while not compromising on business growth.
In relation to packaging, many small businesses needlessly wrap goods in plastic, cardboard and other materials. While much of this could be later recycled, it's better to avoid potential waste to begin with.
If your business sells clothes, could they be wrapped in biodegradable packaging? If your business sells hot drinks, could you reward customers for bringing reusable cups? This would reduce the need to supply cups in the first place. Brainstorm more ways to reduce packaging that are unique to your business.
Consider remote working
Remote working has become commonplace, being the day-to-day reality for many workplaces across the country. New technologies are revolutionising the workplace, making when and where people work more flexible than ever.
While employees used to have to commute long-distances to work in an office or bricks and mortar shop, spending time and fuel to do so, this is no longer the case. Colleagues no longer need to be in the same space to meet and collaborate on projects, as video conferencing software, HR platforms and cloud technologies allow for business to continue working seamlessly.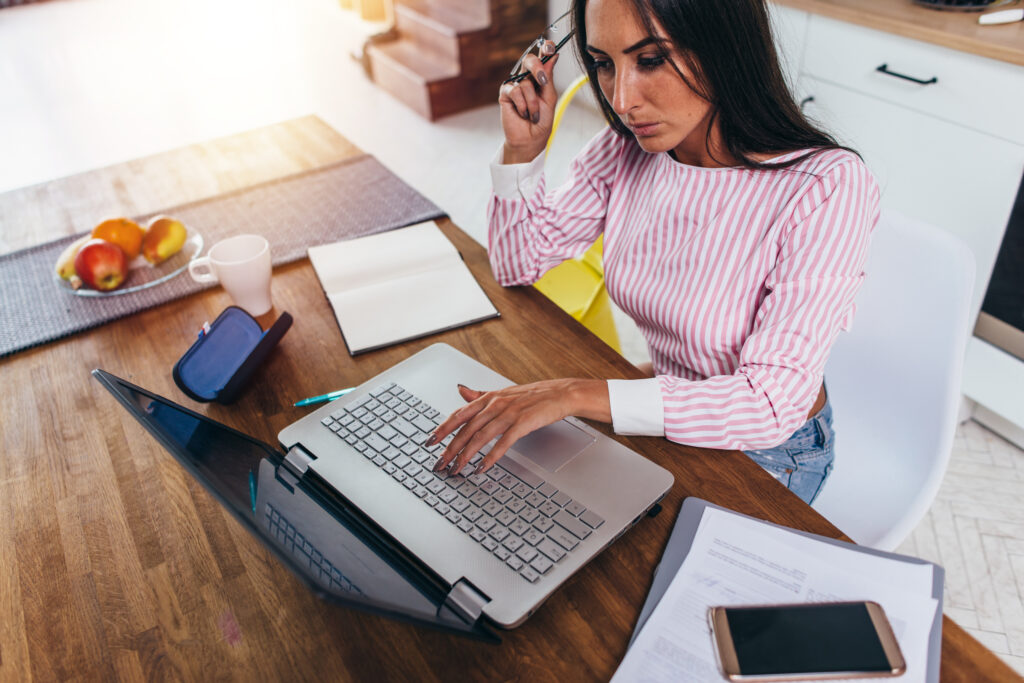 By offering employees the option to work from home and cutting out commuter CO2 emissions, small businesses can reduce their carbon footprint. It will also help reduce traffic on the roads and both improve overall air quality and reduce consumption of petrol.
For SMEs that still need their employees to be physically present at the office, creating flexible workspaces could be a suitable alternative. Not only will this improve productivity, it will also reduce building space, energy bills and ultimately waste.
Office culture
A lot can be said for encouraging an ecologically aware office culture so that all members of the team are contributing towards the sustainability of your business.
The benefits of this extends into many areas such as HR and team-building. For example, encouraging the whole team to get involved by setting targets and nominating an office 'environmental champion' creates a positive green atmosphere. This should be encouraged throughout the entire hierarchy of the business, with leadership team always leading by example.
As a business, there's many opportunities for management to encourage greener practices. For example, choosing vegan and vegetarian food over less sustainable meat or dairy alternatives for meetings.
In a practical sense, ensuring everyone has an awareness of the environmental impact of the various energy uses across the office will also help. Making sure that lighting and PCs are not left on needlessly, and staff wear jumpers to save on heating during the winter.
Furthermore, promoting green transport options to and from work will help the reduction of energy used. Car sharing, cycle to work schemes, electric fleet cars are some examples of this.
Organise for more ethical sourcing
A recent report published by Barclays found that one third of medium-sized businesses have discussed environmentally-friendly practices with suppliers, with this trend only set to increase.
Aside from the potential financial savings to be made from taking environmental action, these businesses highlighted the reputational reasons for doing so as particularly attractive; 26% did so to be recognised as a socially responsible business, while 31 per cent took action because 'it was the right thing to do'.
Bearing this in mind, small and medium-sized businesses stand to benefit more than ever from attempting to reduce their waste, particularly in regard to their suppliers and with their packaging.
SMEs should review their suppliers to ascertain how sustainable they are. Do they use any substances that are toxic to the environment? Could their processes be more efficient? Are there are any suitable local suppliers who could deliver your supplies with minimal delivery emissions?
Office energy use
As businesses look to expand their operations, one area that always seems to take a hit is their energy efficiency.
Moving into larger offices and hiring more staff will inevitably increase heating, electricity and water bills, making smarter use of office energy as much a financial choice as a moral one. With more and more companies beginning to sell energy produced by renewable means like solar and wind power, SMEs should investigate options to switch to these greener technologies.
The growing trend of smart energy meters also offers a valuable insight into how energy is used, with many becoming increasingly affordable. Monitoring energy use in this way will result in lower energy bills, but also a smaller impact on the environment.
The most basic practice that small businesses can implement is to turn off equipment that is not in use. A study found that devices plugged into the wall can account for as much as 50% of an office's electricity usage. Therefore a key recommendation is to turn off computers and any other electrical device that is not in use at the end of the working day.
Key takeaways
Incorporating sustainability into business goals is set to become the rule rather than the exception. With a business' reputation now relying more than ever on its commitment to reducing its impact on the environment, small businesses stand to see significant growth if they reduce their waste.
Reducing paper consumption is just one example, while remote working can also reduce a business' carbon footprint. Finally, by working with more ethical suppliers and seeking out ways to reduce packaging, SMEs can win over new customers and bolster their reputation.
Aidan Bell is co-founder of EnviroBuild.
See also: Environmental checklist for small businesses.