We've all seen them. Bearded hipsters playing table football in the street-level windows of co-working spaces. Or punky girls sprawled on beanbags poring over laptops. These slightly intimidating co-working spaces are sprouting on every high street.
Indeed, the market for flexible office space in Britain is growing at 13pc per annum, according to CBRE research.
London has cemented its position as the global leader for flexible workplaces, outstripping New York in terms of both space and number of venues. Since 2012, flexible workplace leasing has carved out a 10.6pc share of the market in London, compared with an average 2.9pc in Manhattan, according to estate agent Cushman & Wakefield.
In fact, expansion in London has been so fast that WeWork is the second-largest occupier of office space in the capital after the government.
As a trend, flexible working shows no sign of slowing down.
IWG, the world's largest service office group, posted a double-digit rise in revenue in Q1 2019, with occupancy up 4.2pc.
Up to 30pc of corporate portfolios could be flexible workspaces by 2030, according to JLL Research, with the global market having already doubled in size since 2014.
Chantal Robinson, operations director at co-working space LABS, says: "The way we work is changing. People don't want to work in mundane offices anymore. They want a space where they want to come in to work. There's a move away from the individual boxes to breakout spaces where people can be a bit more creative. Those planned meetings are becoming less planned and more spontaneous."
Indeed, the trend seems to be spreading to "enterprise" companies – those with over 250 employees. It may be large companies need space for special projects or want to appeal to a younger, hipper crowd or need to open a satellite office in a foreign city.
Forty per cent of demand for flexible office space will come from large and corporate companies by the end of 2019, according to Instant Offices.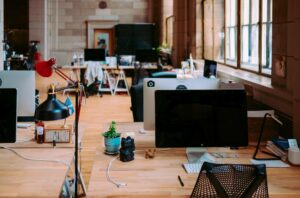 Robinson says: "The advantage for the larger enterprise client is that it takes the headache out of worrying about the coffee order and the security and the air-conditioning maintenance.
"For a lot of larger companies looking for employees to join them, they need to be in a central location, and they need to offer those perks. They need to be able to provide beautiful spaces where people can think and produce beautiful work."
Increasingly, traditional landlords with multiple company tenants are creating workspace-like buildings which allow enterprise companies to stamp their own brand on the flexi-offices.
And co-working brands are also offering what they call HQ Space that can more easily fitted out with corporate identities.
Robert Pearson, associate director UK tenant representation Savills, says: "Back in the day, serviced offices were for entrepreneurs and start-ups. That isn't the case anymore. You've got big corporates taking big project space."
Savills predicts increasing niches in serviced offices as brands differentiate themselves: workspaces specialising in fintech, fashion or social-purpose companies will spring up.
The benefits of flexible office space
Co-working office spaces try to provide everything you need to run a business smoothly, including:
Kitchen facilities
Fast WiFi broadband
Ergonomic furniture
Cleaning, security and maintenance
IT such as printers and scanners
Meeting booths and conference rooms
Hot drinks
Complimentary snacks such as fruit and biscuits
For a start-up, a flexible office removes the headache of fitting out a traditional office yourself, is cheaper – at least in the short term – and appeals to those fickle snake people.
Flexible offices enable you to scale up (or downsize) quickly, saving you the exasperation of negotiating with a landlord.
And co-working spaces surround you with like-minded entrepreneurs who are also starting out of scaling their small businesses. This provides on-tap chances to share war stories, best practice and harvest networking suggestions. And these connections with your peers might endure for life.
These soft benefits, the networking and the social side, do appeal to younger employees in an age where staff recruitment is the number one headache for growth businesses. Serviced office provider LABS offers free yoga sessions, organises running clubs, hosts TED-style talks and social events.
Robinson says: "We're seeing increasing demand from start-ups through to small-to-mediums and now enterprise companies. Yes, you'll always have companies which will want a traditional lease, but this trend will continue as more and more beautiful spaces become available."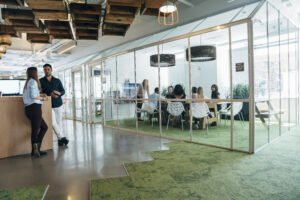 Advantages of co-working
Cash flow
One of the attractions of co-working is that it lets you to work in a central location without high upfront costs or long-term commitments. The office has already been kitted out. Expenses such as office furniture and renovations are included in your rent, as is electricity, high-speed internet and other utilities.
Cushman & Wakefield says that the average cost of renting flexible co-working in London is more than half the cost of traditional space.
WeWork says that worldwide, a company of four individuals can save 35pc on average over traditional office leasing.
According to IWG, 65pc businesses say that flexible workspaces help them reduce both capital expenditure and operating costs.
Scalability
As we have seen, flexible offices enable you to expand or contract quickly without capital outlay. When you are growing quickly, it is easy to upgrade and move into a new space. Most co-working leases are for one year only with a six-month break clause, and many offering rolling monthly leases.
Simplicity
Many new tenants signing the lease on a traditional office do not realise how much they have to do: fit carpeting and run ethernet cabling, install a kitchen, create meeting rooms out of what is essentially an empty cube.
Pearson says: "In order to take a traditional lease, you need a significant amount of capex: your traditional office is vacant with a metal floor and metal ceiling but no walls and no carpet, no meeting rooms. You almost need to build it from scratch. It's a big project. You don't want to be fitting out a whole office if you're only going to be there for a few years."
Co-working allows you to concentrate on getting your business up and running, provides 24/7 support and invoices you monthly, taking care of everything else.
Robinson says: "As well as the flexibility to both upscale and downsize without having commitments of a long-term lease, flexible workspaces such as LABS manage everything with the convenience of the single invoice, taking away all the headache about business rates, cleaning, utilities, security, etc."
CO-WORKING SPACE - PROS AND CONS
| Advantages | Disadvantages |
| --- | --- |
| All-inclusive | Expensive in long-term |
| Fixed monthly fee | Lack of space |
| Scalability | Lack of privacy |
| Community | Can be noisy |
| Social activity | |
Disadvantages of co-working
Too expensive
The simple truth is that adding desks to co-working spaces becomes increasingly expensive. And even if the cost-per-head remains the same, a traditional office can offer twice the space per desk.
Also, some tenants of co-working spaces complain of sudden rental hikes and opaque monthly bills that spill over from the previous month – and the next.
How do you calculate which is better value?
With a serviced office, an all-inclusive fixed price per desk plus VAT is easy to calculate.
When it comes to a traditional office, you calculate the rent, rates and service charge over the lease period, plus capital expenditure and dilapidations at the end, minus the rent-free period. Divide that by the number of desks over the period of term.
Too cramped?
One of the criticisms of the craze for co-working spaces is that many of them are converted out of traditional offices, and service operators try and cram in as many people as possible.
Savills says that WeWork operates at quite a high density and you have to share facilities such as kitchens.
One of the reasons why flexible working has taken off in London is because so many offices under 2,000 sq ft of space have been converted into private homes.
Some workspace providers have adopted the low-cost airline model by maximising desks to uncomfortable levels. Office buildings designed for much lower headcounts are bursting at the seams, complain renters. One flexible workspace member has complained that its desks are 20cms narrower than is normal, and that its co-working spaces are becoming increasingly cramped.
The right image?
If you work in a stuffier sector which requires face-to-face meetings with clients, a co-working space may be too informal.
While some co-working venues have the option to reserve conference spaces, for the most part, you cannot be sure of complete privacy. Several other people will probably be in the room, which could put off sensitive clients.
A trendy co-working environment may not project the right image for your company. While flexible office brands such as WeWork and Spaces put a high premium on trendy design, the focus is on their brand, not yours.
Too distracting
The buzz of co-working can be distracting. The noise or even low-level hum of constant activity may not be right if you need monastery-like quiet. If you have difficulty staying focused, you may find a co-working space less productive than a sequestered, private office. Having snake people whoop while scoring ping-pong can be distracting.
TRADITIONAL OFFICE - PROS AND CONS
| Advantages | Disadvantages |
| --- | --- |
| Custom design | Responsible for fit-out |
| Generous space | Fixed lease |
| Corporate identity | Inflexibility |
| Privacy | |
What's better – co-working or a traditional office?
Estate agent Savills has a rule of thumb that co-working is great if you're company is growing but once you have reached stable headcount, a traditional office would be best.
Cal Lee, head of Savills' Workthere solution, says: "It's not so much size as growth. How quickly are you growing? If you're continuing to grow at more than 25pc year on year, it makes more sense to remain in a flexible space. You can stay in a flexible space now until you've got 500 employees or a thousand."
Related: 9 factors that will help you choose the right office location