There are certain types of insurance which are essential in your personal training company as well as some extras that you may not have even thought about.
If you feel bamboozled by personal trainer insurance, Neil Robertson at Insure4Sport has some helpful advice to get you started.
Why you need personal trainer insurance
Specialist personal trainer business insurance protects you against potentially costly claims from clients if something goes wrong during a session. It also covers you if your equipment is lost, damaged or stolen, if you injure yourself when training or if an employee gets injured while working for you.
It's so important that proof of specialist insurance is required by most gyms and sports centres before they allow you to work at their facility.
What types of insurance are required by law?
If you train with clients, having public liability insurance is essential. This protects your legal liability if a claim is made against you for injury to another person or property damage. For example, you may need to claim if a client injures themselves during a session and holds you responsible or if you accidentally damage a facility you're training at.
Professional indemnity insurance is also essential if you train clients – this covers you if a client injures themselves as a result of an exercise you've instructed and makes a claim against you.
'If you train with clients, having public liability insurance is essential'
It's not just injury to your clients you should consider. If you injure yourself while training then you need personal accident insurance to cover potential physiotherapy or dental treatment costs. When you take out personal accident insurance, you can also get optional loss of earnings cover for up to 52 weeks in order to support you financially if your injuries mean you're unable to work.
Another vital requirement of personal trainer insurance is equipment cover. If you transport your equipment to and from a fitness centre or a client's home, you need equipment cover to protect it against loss, theft and damage. For instance, someone could break into your car and steal your equipment or it could be damaged by an inexperienced client during a session. If these things happen and you don't have equipment cover, you would have to pay for repairs or replacements out of your own pocket.
If you employ other personal trainers, by law you must have employers' liability insurance. If a personal trainer you employ got injured while working for you, they could hold you responsible, whether the incident took place on or off-site.
As a result, you could be on the receiving end of a costly compensation claim. Having employers' liability insurance means you're protected against claims like this and your business won't be affected.
Extras
If you take out personal trainer insurance, you can add worldwide cover to your policy, so you are protected when running personal training sessions abroad. However, some insurers' worldwide cover doesn't extend to the USA and Canada, so make sure you're getting exactly the right cover for your needs.
Restrictions you might not have considered
Public liability insurance will only cover you for face-to-face sessions or with online 'live' video sessions such as Skype. The insured limit will be the amount you select when you sign up.
If you train children as part of your job, you would be covered by your personal trainer insurance, provided you have the relevant qualification.
Kate Campbell runs her own business, Kate Campbell Fitness. She explains how she matched her personal trainer business insurance requirements with the policies on offer.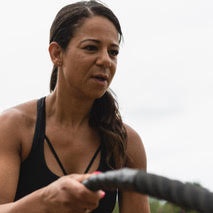 I recently needed to upgrade, so I went with my current insurer. Prior to that I was with a family-run business that was recommended to me. The policy was great, but it was expensive in comparison to others.
The cost with that insurer went up and I thought that I needed to start hunting around. It was then that I found my current provider – the price was good and it was easy to use. You can tick the boxes of what you do and what you need the policy for. I do quite a lot of work with ante-natal and post-natal clients, so I've got to have cover for working in the park with the babies and things like that.
'I do quite a lot of work with ante-natal and post-natal clients – I've got to have cover for working in the park with the babies and things like that'
I wanted everything to be covered on one policy with the £10 million liability insurance that you need for doing bootcamps. That's what our council (Sheffield) require – so all personal trainers have £10 million public liability insurance. Areas like sports massage come under the policy too – it's brilliant.
I've just gone from being in business on my own to running a gym so that was a massive jump in cost.
How did that affect your premium?
It had a big impact, but my insurer allowed me to pay direct debit month by month. They amalgamated this policy into the one I already had running. Although the cost went up, it wasn't as bad as it could've been.
I've also got the employer's liability insurance now as I'm employing staff too.
Soon I will be offering programs that can be bought online so I need to make sure I speak to my insurer before I do that – I'm sure there'll be something else to worry about!
You said you have a lot of ante-natal and post-natal clients – what are the more common claims you'd expect?
We run baby jogging sessions. It could be the case that a mum is jogging with a pram and their baby falls out and I hadn't told them to make sure that their baby is strapped in. However, I do say in the terms and conditions that children are their parents' responsibility.
Sling exercises have also become quite popular. If a mum hurts her back with an exercise that we've given with a baby in a sling, that could be a claim. If there were an accident in the gym now and the baby wasn't behind the baby gate, that could be another claim.
What about cover for students or trainees?
I've just had a university work experience student who I've taken on because he's so good. He had cover initially from the university and now I've asked him to get his own insurance. It's all done through my current insurer.
How do the different policies work together?
Now it's him as a trainer and it's his liability. If there's a problem or if someone hurt themselves, they would claim with him.
For extra security, I've got this big overriding policy in my gym and the client might decide, "I'm not going to go for him, I'm going to go for Kate". He's insured for his clients while I'm insured for my staff.
What advice do you have for other personal trainers looking to take out insurance?
Look at the small print – make sure it's covering you and that it's covering the right things. It's got to have public liability and it's got to have indemnity because you can say things to people which can be misconstrued. Don't try and be cheap on it.
Further reading on insurance