At last, the essential guides series is moving over to Wales and we're going to kick off with the big city: Cardiff.
Take a look at what you need to know about starting a business in the Welsh capital and what the firms' take is on launching there.
Population
Of course, Cardiff the largest city in Wales, with an estimated population of 362,756 in mid-2017, according to StatsWales.
The female population is a little bit higher, with 183,578 females compared to 179,178 males.
Crime rate
In the year ending September 2018, Cardiff had an overall crime rate of 107.4 per 1,000 population, which is around the average for cities in England and Wales at 112.99 per 1,000 population (Police.uk).
House prices
Rightmove says that the overall average house price in Cardiff is £237,555. During the last year, sold prices in the city were up 6% on the previous year and 10% up on 2016 when the average price was listed at £215,049.
Tourism
Cardiff saw a record numbers of tourists during 2017, with 31.3 million people visiting – 5% up on the year before.
Transport links
Flights from Cardiff Airport go around the UK and the world, combining direct and indirect flights. International destinations include New Zealand, Iceland and Peru. The airport itself is 13 miles west of the city.
Cardiff Central station is, as its name suggests, right in the city centre. It's the largest and busiest station in Wales, located 10 minutes from the Millennium Stadium and St David's Shopping Centre. Services mostly go between north and south Wales, but it also serves as a connection for rail hubs across the country including Manchester Piccadilly and London Paddington.
If you're thinking more locally, a regular bus service runs around the centre and the surrounding areas. As for coaches, National Express goes to most cities while Megabus operates services to London, Swansea, Birmingham Airport, Manchester and Newcastle.
A new tram service is underway, but you won't see it for another few years yet.
Funding for Cardiff-based businesses
The Economic Development Team at Cardiff City Council can help you with start-up funding, giving you advice on identifying and securing loans, grants and equity.
Business Wales also has a designated enterprise zone for Central Cardiff to help businesses set up.
What the businesses say about setting up in Cardiff
We speak to three small businesses to see what how they fared when they started their company in the Welsh capital.
Brooke Williams is the CEO of Sorbet, a property tech platform. He talks about the city's support for entrepreneurs – financial and otherwise.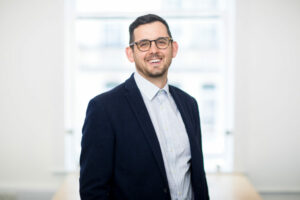 I started the business here because I'm from Cardiff.
The enabler to get going was the help from the Bank of Wales and the business angels in the area. On top of that we had support from the Development Bank of Wales. Without that initial funding and support, it'd be very difficult for us to launch a business.
Initially I joined an accelerator in Caerphilly, just outside of Cardiff, but now there are a few more accelerators in the centre. When we were launching three years ago, I went to every networking event I could to meet potential investors and secure business meetings – even breakfast ones at 5:30am!
It's all about working early morning and evenings, really putting the graft in.
A supportive tech community, both on and offline
I'm part of a Slack channel made up of Welsh tech founders. As tech companies, we all share tips of what to do and what not to do – the companies not to use (like accountants and legal) or if someone knows a new grant available. If anyone wants to ask a question, they can ask it there.
The community of tech founders in Cardiff is great. We're all close – some of us share angel investors. It's working well as there's a lot of synergy.
'The community of tech founders in Cardiff is close – some of us share angel investors'
Local universities are very active in working with businesses. We are collaborating with Cardiff Met to implement artificial intelligence into our software.
Struggling to find developers
It's difficult to find the right talent – there are a few big companies who are based right in the city centre and employ a lot of developers, though the overall shortage of developers is making things more and more difficult.
Cardiff University has tried to step in by giving us students. Once the students come to us, they've already had real-life experience with a company. That's good, but they're not going to file into the workforce for another couple of years.
However, there are more and more tech companies springing up in Cardiff because of the support available. I think the developer shortage is going to get worse, but people might come over from Bristol and London because of companies like Monzo (who have just moved to Cardiff) and people are learning what a nice place it is to live and work in.
The quality of life is high here. House prices are cheaper than Bristol and London, for example.
We've got Cardiff Bay, Cardiff Castle as well as beaches 45 mins away. It helps that the trains and roads are great. It's a small city with a great community for business.
Sporty people will be pleased to hear that we've also got paddle boarding – there can't be many capital cities that you can paddle board through the centre of.
Not just financial help
Cardiff has post-Brexit funds available for manufacturing so there is help out there.
You won't necessarily get a cash grant – it could be support with legal, for example. We had support with an audit to see what kind of IT we had, provided by the Welsh government. It's a £500 contribution from us and the rest was paid for by grants. The Bank of Wales do interest-free loans, too.
There's a buzz around the place – it's supportive of starting your own business. It's more the norm to see people working for themselves and working from coffee shops these days.
Lewis James, communications manager at BriteAngle, says he is inspired by the local entrepreneur community.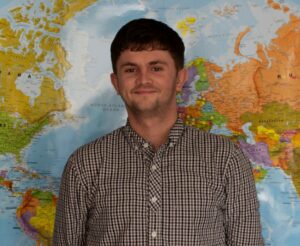 We're a Cardiff-based business who design, test and manufacture our products in Wales, but we attract business from around the world.
Our company is born out of a near-fatal accident involving our managing director, Stephen Wornham. While driving home one evening on the streets of Cardiff, he narrowly avoided hitting a stranded motorist changing a tyre on a poorly-lit road. We have now made it our mission to prevent this – or worse – from happening again.
What's Cardiff like as a city?
Cardiff could be described as a compact, friendly and inexpensive city with all the cultural and recreational facilities you would expect to find in Wales' capital.
Its grand civic architecture combined with its breezy waterside location, smart city bars and proximity to open countryside makes it a fantastic place to live, work and study.
Being surrounded by entrepreneurs
Through the NatWest Entrepreneur Accelerator Scheme, we have been allocated state-of-the-art office space right in the heart of the city with other like-minded start-up companies.
Being surrounded by entrepreneurs hungry to make their mark within their respective industries is exciting, inspiring and motivating.
To be part of this hive of creativity, drive and determination is something we wouldn't necessarily have been able to achieve without the support of NatWest – the networking opportunities it affords us are invaluable.
Neil Cocker, CEO of Ramptshirts.com, also launched a start-up funding programme to help out his fellow tech business owners.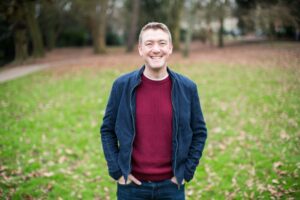 There was no great strategic decision to start up in Cardiff, to be honest. It was simply because I lived here and had done so since graduating from the university.
It's a great city, easy to navigate and get to know everyone you need to. It was a no-brainer for me to stay.
Deciding to start our own funding programme
We were actually unsuccessful in securing funding and we were one of the first vocal tech businesses in the city.
We had to join an accelerator programme in London to get access to the relevant advice and support we really needed.
Our frustration back then in trying to find relevant, specific, knowledgeable investment in the city ultimately resulted in me setting up Cardiff Start, the largest start-up community in Wales.
Cardiff has a fairly young demography, meaning that we've got tons of brilliant people here. However, like everywhere else, competition is fierce for the best developers. We have plenty of amazing creative people available to us, but tech is a lot more difficult.
Having a Bulgarian co-founder, we've been able to take advantage of that connection to outsource a lot of our development there. Brexit will probably make that a little trickier, though.
As a tech start-up, we don't really see ourselves in direct competition with people locally. We make it easy for companies and teams to get custom merchandise, so we're kind of in competition with local "traditional" t-shirt printers, but our market is wider and more global.
How's life in Cardiff?
The city regularly ranks highly in quality of life surveys.
We have a low cost of living, amazing nightlife, a brilliant arts scene, sporting facilities and a friendly atmosphere. Plus, there's so much green space everywhere.
One of the benefits of being a relatively small place is that everyone can get to know everyone else quickly, so community springs up. Just don't mention the weather!
Cardiff not for you? Try:
The essential guide to starting a business in Glasgow
The essential guide to starting a business in Leeds