Warning: spoilers ahead
Imminent PM Akshay answers the call of destiny this week. The candidates are heading to Greenwich Market to do a task which they reckon is around buying and selling.
They're absolutely correct. Not only do the candidates have to do selling on live TV, they have to select the items to sell and produce the hour-long broadcast. The team that generates the most money wins.
Aaron wants to be project manager again, which he hasn't since the disastrous toothbrush challenge in week two. Brittany appears supportive but slips in a sly disclaimer that the role of PM depends on the task: 'We'll have to see who the best person is based on that…'
But the drama llama is never far away on The Apprentice. In the next scene with Team Infinity, Brittany pitches with the story of her lifelong dream of wanting to sell on the telly. Aaron doesn't mind, as long as the team wins.
The competition's getting intense (but still hilarious), with just seven candidates left.
Team Infinity
Brittany (project manager), Aaron, Harpreet and Akeem.
Team Diverse
Akshay (project manager), Stephanie and Kathryn.
Shop2Sell
Aaron and Brittany and Kathryn and Stephanie are at TJC HQ in Feltham to locate the big-ticket items. They both have access to the same goods: a garden furniture suite, a ring and an air fryer. Stephanie and Kathryn go for a hard sell, focusing on the figures, but they aren't as personable with the retailer as Brittany and Aaron.
Both teams want the ring. Ultimately it's Aaron's previous jewellery selling experience that seals the deal. A disappointed Stephanie and Kathryn have to go for the air fryer, meaning that they have a lower-cost item to sell more units of.
The other parts of the teams go to scout out the smaller items. Akshay is sampling the goods solo. He tries to ask onlooker Karren a question, like he needs support from his imaginary friend. Though with her disgusted facial expression it'd be fair to peg her as inner critic rather than imaginary friend. I feel like she's there just so he's not talking to himself.
Harpreet and Akeem have gone decidedly in the other direction from the premium ring, with a six-piece bedding set, an owl light and an inflatable flamingo. 'They don't seem to have a strategy,' says Tim. 'They're just picking up things they quite like.' It seems that no one is looking at the target demographics of the channel, strangely.
Upon hearing the news of the tat that Harpreet and Akeem picked up, Brittany and Aaron looked about as deflated as the poor flamingo.
Promo no-no
Stephanie is doing the promo for the air fryer but 'looks quite moody'. Kathryn is trying to pick her up, but it's becoming reminiscent of her 'Woooow' at the zipline in the Wales challenge. With the absence of a logo to design, the cameraman is sporting the graphic designers' signature 'losing the will to live' expression this week.
At midday the next day, the teams go off for training. En route, Aaron and Brittany are having a dead serious conversation about what info they have on each item. All the while, a pink ring flamingo is sitting between them, watching.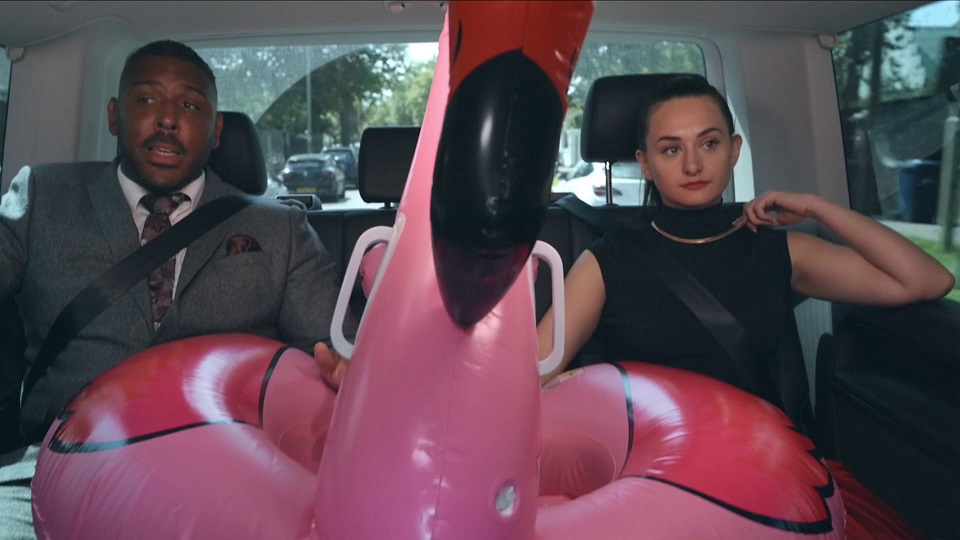 Brittany does presenting training on a power plate with the producer's voice in her ear giving her constant instruction. She handles it pretty well, considering she has to squat 'n' sell.
Shop, shop, shop!
Aaron and Brittany's power hour is up first. They open by staring into the camera with lift music in the background. In fact, it has all of the awkwardness of standing in a lift with a stranger. They desperately try to sell the solar-powered owl. 'It's handmade' urges Akeem from the production suite. Aaron says, 'Made with a hand' (what, just the one?)
Then it's the flamingo rubber ring – or 'water sofa', to use the more formal terminology. The shocker price drops keep coming to try and get bidders on the phone. 'More energy! Stand up! Swing her about!' Harps harps. This approach works in the kitchen, but does it work as a producer? 'Talk faster!' she continues as the 'perhaps a little more composed' Akeem watches on.
Now it's Aaron's job to get some energy into the bedroom. 'Comforter! Fitted sheet!' You can virtually hear Harpreet through his earpiece. 'The only thing you're not getting is me in bed with you,' Aaron says in a somewhat unconventional sales tactic.
On Team Diverse, Stephanie appears nervous as Akshay feeds her lies – I mean lines – from the production room. Here's a snippet from the clothing steamer pitch. Akshay: 'Tell them it'll be life-changing' Voice off-camera: 'We can't claim it to be life-changing'.
Stephanie captures the mood by saying, 'Oh sh*t' as she makes her way across the set for the massager pitch. An off-camera says, 'Both your mics are liiive,' in the exact tone you'd expect from a 'polite reminder' email.
The alternative facts keep coming as Kathryn is instructed to peddle the snail face mask, which is made up of snail mucus, as vegan friendly. 'Just to confirm it's not vegan friendly, but it's a friendly product,' Akshay says as he dives to save an own goal.
He takes complete responsibility for the task which at least shows some personal growth from his last foray into project management in week one.
The final bidding
This boardroom sesh is different as Lord Sugar could watch the broadcasts and boy, did he have some things to say. Aaron and Brittany started off their broadcast looking 'like they were in marriage counselling'. He also points out that people can buy an inflatable flamingo ring at the petrol station for around £3.
On shopping channels, some customers change their minds, which adds real jeopardy to this task. Let's see how they got on.
Team Infinity
Purchases: 56
Profit: £2544.00
Team Diverse
Purchases: 83
Profit: £2089.17
Infinity go to Phoenix Artist Club in the West End for an exclusive show from Veronica Green of RuPaul's Drag Race fame. It's nine tasks and eight wins for Brittany and Harpreet.
There's no decider on who joins Akshay as the three take a seat for the final boardroom showdown. The ring sale 'changed the whole game' but even then, JTC normally sell 85 massagers in the same timeslot but Team Diverse only sold four, so all of the candidates were at fault in some way. 'It's very hard,' says Lord Sugar. 'You're not a bad fellow,' he says pointing to Akshay, advising him to keep in touch.
It seems fitting that the man with nine lives is the one to go this week. Perhaps a killer business plan got him this far, but it just wasn't enough.
Watch the whole episode on BBC iPlayer
Next week: Baby Food
The candidates will be embracing their inner children to create and brand a new baby food, pitching it and selling it to retailers. Join us next week for the recap.
Catch up on the rest of the series
The Apprentice: Hardly a cruise for the candidates – series 16 episode 1 review
The Apprentice: Oops, they did it again – S16, ep 2
The Apprentice: Shaken and stirred with plenty of zingers – S16, ep 3
The Apprentice: For goodness' hake – S16, ep 4
The Apprentice: Gaming, blaming, shaming – S16 ep 5
The Apprentice: Ask and you shall be ripped off – S16, ep 6
The Apprentice: No peas in these pods – S16 ep 7