Nearly a third of new British businesses will begin life as a pop-up shop, according to a study by EE.
From being a niche alternative to a long retail leasehold, created by the 2008 financial crash, pop-up shops have gone mainstream.
From food to fashion, to bookshops to sport shops, retailers small, growing and large are using the pop-up shops to grow their sales and experiment with new ideas.
In many ways they are an ideal entry point for a young, small business – long-term commitment free, cheap and cheerful while retaining an exclusive and scarce feel for consumers.
Here, we'll investigate the rise of pop up shops in the UK, find out how much they cost and how to find the right spot for you.
David O'Neil, head of commercialisation for pop-up shop landlord Hammerson explains that the pop-up store trend is here to stay and why it can be a good first step into retail for small businesses.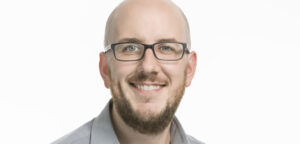 With the pop-up market estimated to be worth in excess of £3 billion a year, it's clear the phenomenon is here to stay.
Encouraging local businesses to take advantage of pop-up shops not only benefits the small business owners, but provides additional opportunities for shoppers to buy from local suppliers and allows us, as a landlord, to be a bigger support to our neighbourhoods.
Pop-up shops are flexible
For smaller retailers, commercialisation offers a cost effective, flexible route to market. SME's can test concepts and refine or adapt their proposition to suit consumer tastes without the pressure of a long-term lease, and while benefitting from the experienced guidance of on-site teams. With the right mix, shoppers are inspired to come and discover something new more frequently, and fledgling businesses have the opportunity to test the water, create brand awareness and showcase the next big thing in retail. Some now very well-known brands launched via pop-up events, including Innocent Drinks and Meat Liquor.
Good footfall for pop-up shops is key
Industry research suggests that 50 per cent of customers have visited a pop-up and so it's the quality of the location and strategic positioning that really matters. Start-ups and entrepreneurs must take advantage of the exposure venues can offer and the high customer traffic locations for the best shopper engagement opportunities. Whatever the size of a brand or business, we can create the perfect platform to set sales alight. Pop-ups need to be in the highest footfall locations, they can't be off pitch as they are often not there long enough to generate "slow-burn" attention. With an average customer dwell time of 98 minutes, our spaces are strategically located to get brands noticed immediately and deliver this stand-out attention.
See the most popular sectors for pop-up shops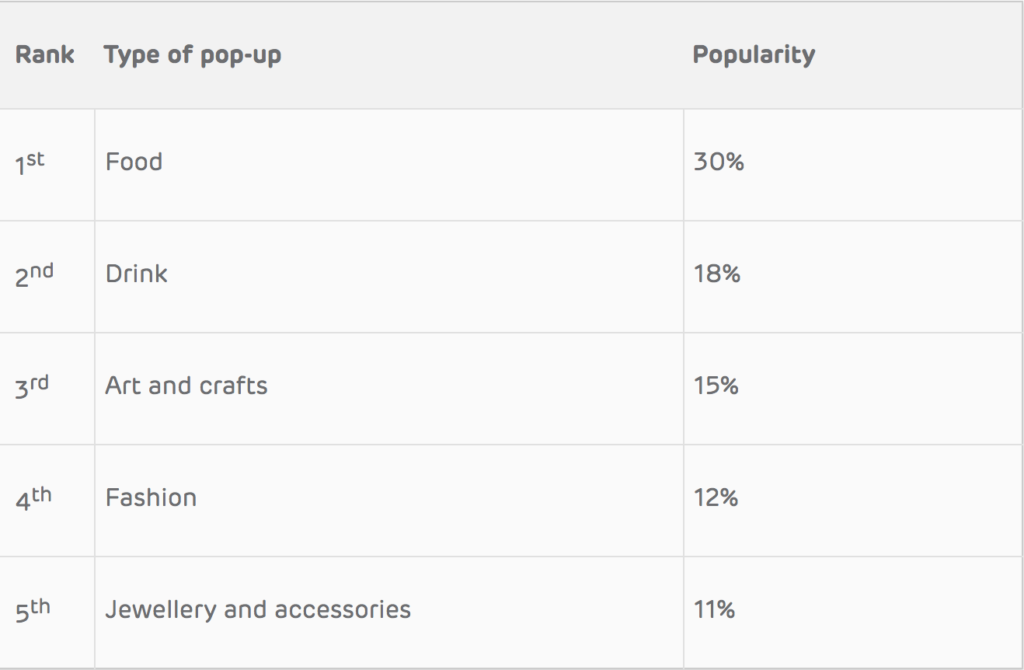 The history of the pop-up has four distinct phases. Firstly we saw celebrities launching them, for example reality television star Lydia Bright showcased her fashion boutique Bella Sorella back in 2013 at Silverburn in Glasgow.
Then we saw online brands like Skinnydip going offline with a pop up at Brent Cross, London. This trend continues today with women's fashion brand Hush having launched recently at Victoria Gate, Leeds.
Next some brands such as Harper & Lewis, the vintage clothing specialist, adopted a pop-up only business model which allowed them to evolve into longer leases over time.
We've also hosted Sound: Leisure jukeboxes, furniture manufacturer Swoon Editions and Etsy (the global marketplace for unique and creative goods), all of whom were online pure plays. Calendar manufacturers have been active in this sector taking advantage of seasonal opportunities as has Halloween HQ. Tesla trialled physical stores entirely via popups initially which led them to move into permanently leased units.
Pop ups are now a key feature of premium shopping centres
Finally, pop ups became accepted and welcomed as an integral feature of premium shopping centres which has arisen through the more flexible use of spaces. A great example of this is LinkStreet, a walkway within the Bullring in Birmingham which is dedicated exclusively to popups. The shutter-fronted space features an open-plan design with magnetic slots in the walls allowing easy and quick set up of shelving units and other fittings, all of which are provided by us. Brands such as DA Clothing, Major London 05 and Ratchet have appeared here.
Cost of launching a pop-up varies across the UK
Cities like Bristol, Leeds and London have a real entrepreneurial spirit and a greater volume of small businesses. Costs will be higher in these places as there is more critical mass of new brands.
"New brand have to work a bit harder on making their pop-ups look fantastic and get social media behind them to create a real buzz"
That being said, we're seeing indie brands in conversation with our teams in every city we work in across the UK. We always bring the conversation back to sustainable business for everyone – if the offer is likely to be popular with our customers, we always strive to find a solution that delivers that whilst nurturing the brand in question.
In terms of pop-up shop designs, flexible furniture with a number of different uses that can be moved around is proving popular. Most successful shops have a central focal point which is a real draw. A great example of this is the highly successful Mercedes pop-ups we hosted in several of our centres across the UK, fitting out the shop as a showroom and even bringing in a Formula One car for customers to capture the all-important Instagram moment. This really gave people an experience and the stores sold spin off merchandise which was in huge demand. Renault also undertook a really cool 90s throwback pop-up at Bullring in the summer to celebrate the 30th anniversary of the Clio with the original and modern models side by side.
Whether your businesses is a cooperative, a franchise, owned privately or a social enterprise run by non-profits, Hammerson Engage has a range of opportunities to help establish your business within the local community and keep it vibrant.
So, pop-ups are unlikely to be as transitory as the name suggests – and we see no signs of the trend slowing down.
Indie Foolheea, founder of ethical brand platform Control Change, which sells stationary, chocolate, jewellery, skincare and more, shares how she got a pop-up shop space in London's tech city district and how she found the experience.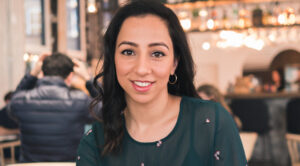 How I found a location
I found my pop-up shop location through Appear Here, which has a monopoly on some of the best spaces in London. I simply told their concierge service that I was looking for a certain location, told them what my idea was, submitted it and someone got in touch pretty quickly. They gave me a shortlist of locations and I eventually settled on Old Street tube. I've taken six days' space here, it's a good location because it has strong footfall.
I went straight to a pop-up shop space instead of a market stall… I know how the retail business works as I've managed brands in the past. I currently support smaller ethical and sustainable businesses with their social media and content as a sole trader and Control Change is an idea that grew out of my consulting work.
How much do pop-up shops cost?
In Old Street tube it generally costs no less than £1,000 a week as well as an upfront security deposit of £1,000, (which you get back at the end like a deposit for a flat). You don't have to get a pop-up shop licence but you must pay for public liability insurance which you can find out about via a quick Google search.
Branding the shop
I was quite lucky as my husband is an UX designer so he designed my logo as well as the furniture. I wanted a rustic or vintage style for the benches and tables and it was all quite easy to hire online – I went through Rustic Hire, it all cost around £600-£800 but I put the shelves up myself to save money.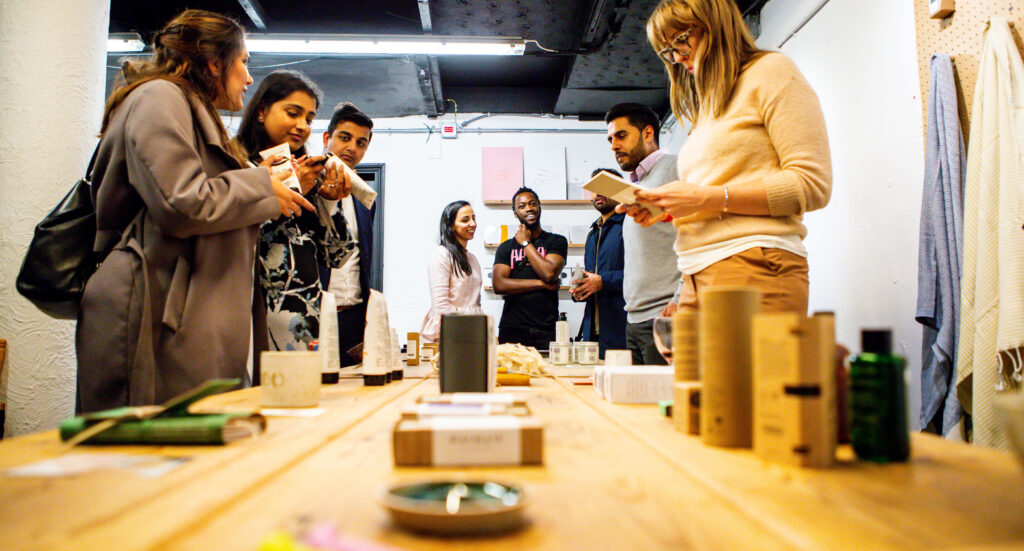 Promotion and social media
I mainly used Instagram to get engagement with people and used Twitter for ads. I didn't do flyering outside the shop as we're retail so it didn't feel right – flyering would work better for food and drink products. I also did some events in the pop-up to provide more of an memorable brand experience for people.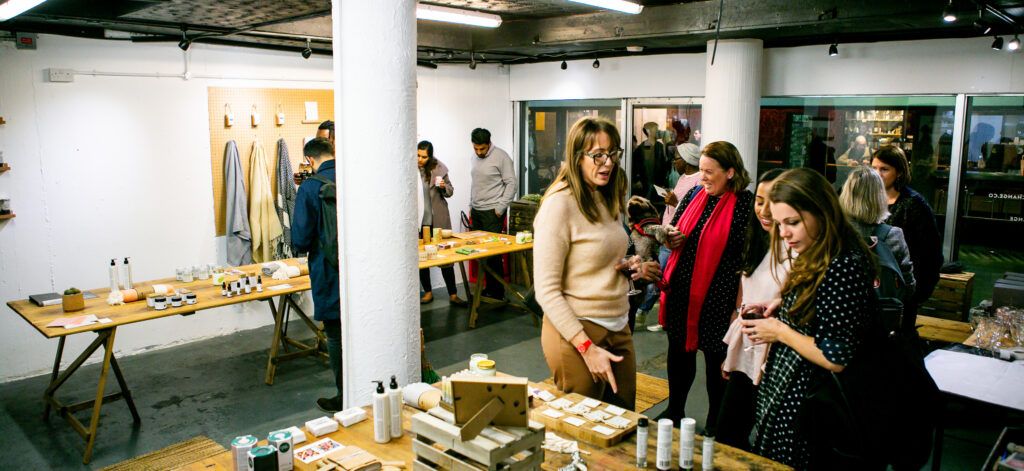 What would I have done differently?
In general my pop-up shop experience has gone better than I thought it would, especially for someone so new. But if I could have done it differently I'd have given myself more time to plan as two to three months is not enough. I manage about 20 brands and and dealing with them on a logistic basis was probably the number one challenge for me. Some people would drop products off here early in the morning while some came later so organisation is key.
Also I'd advise to think well ahead about your promotion strategy so you can get to people in time well in advance. If you're going to the press, contact them a month or two ahead of time – that's how we got featured in the Emerald Street newsletter, which goes to 150,000 people each week. Also, be prepared for things not going to plan!
I've lost a bit of money this week but we're also online so I've supplemented having a space for six days with an online presence as well. I hope to make the money back in the next few months through subsequent online sales.
Gary Bierton, marketing director from Classic Football Shirts explains how the company has taken on new pop up shop locations and carved a niche for itself in a competitive retail sports market.
We took a two floor pop-up shop at the Barton Arcade in Manchester in October 2018 until Christmas and we found the location, an art deco and mixed-use venue, through Appear Here. The footfall is good and it's quite an iconic building. Just yesterday, we did about £6,000 in sales.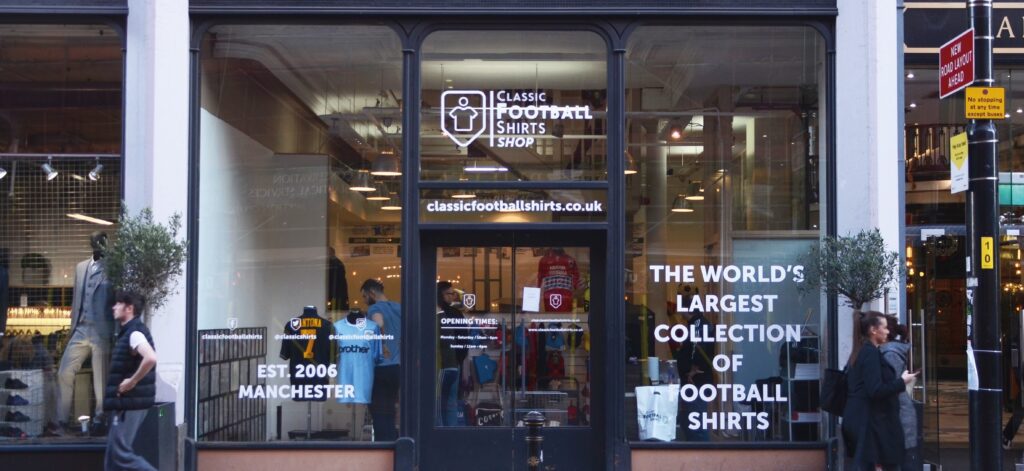 The initial idea was to pack as much memorabilia in as possible and make the design of the store and what was hanging on the walls almost as interesting to our niche audience as the football shirts on the rails. For example, we've got a 90's arcade machine which we've redone with our logo and branding and loads of different players from that tournament. There's a lot of artwork on the walls from various people on social media that we've put up. with our logo and World Cup '94 designs as well as around 100 vintage magazine frames, which creates a nostalgic and authentic experience.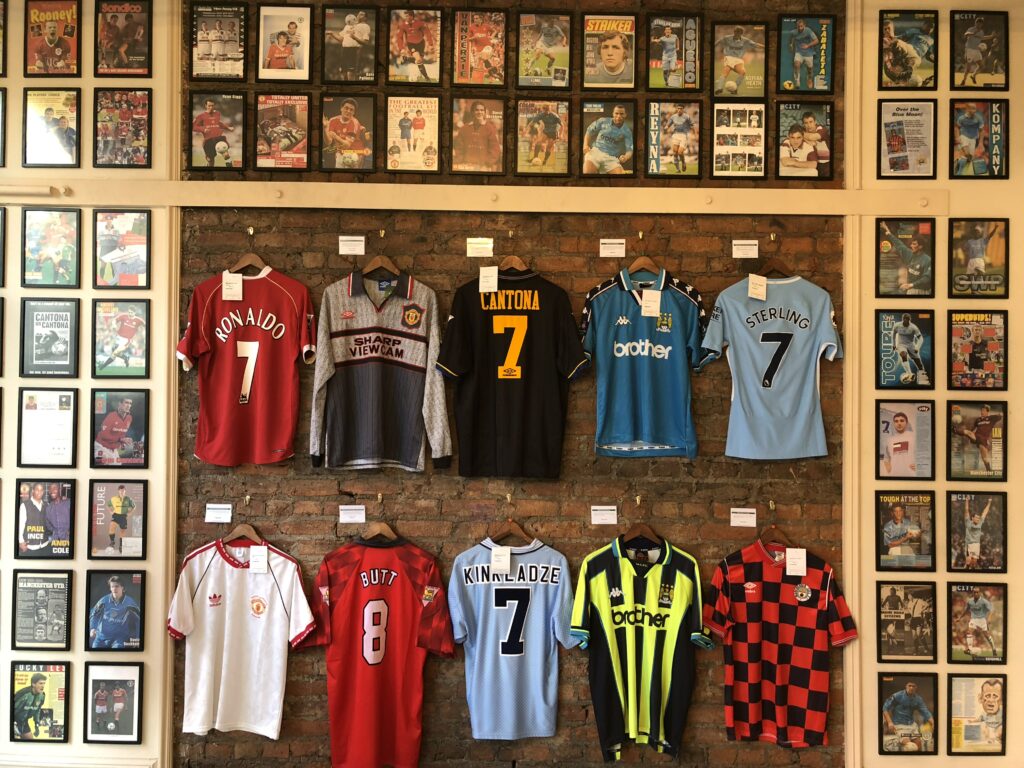 For our pop-up shop in The Old Truman Brewery in Brick Lane, London, where we've been trading since April 2018, some of the initial kind of buzz has died off but we're still making £2,000 a day in sales. To drum up interest in the London store we put on an exhibition at the Old Truman Brewery in July 2017, which showcased some of the rarest and most valuable shirts we'd be selling in the sh0p. The £2,000 a day we're doing now is obviously still amazing and we're really happy with it.
We sell thousands of vintage football shirts from the 80s and 90s alongside products that you can get from Sports Direct and Lillywhites, who are all spitting out the same kinds of things all the time. We sell shirts from well-known clubs like Manchester United and Liverpool as well as more obscure ones like San Marino and German outfit Dynamo Dresden. By prioritising the pure variety of the stock we've managed to differentiate ourselves to the bigger players over the years.
Given the state of the high street at the moment, there's places coming and going all the time so the opportunities for businesses like us that might not have been around 10 or 15 years ago are more readily available now.
"(West Ham striker) Andy Carroll was at the London shop a few months ago"
Oli Silver, owner of independent Birmingham arts shop Vincent Van Doodle shares how getting a pop-up shop got his business into one of the countries most iconic shopping centres.
By Spring of 2015, we had built a website, put some artwork together and done a couple of trade shows and had some newspaper articles written about us – but we still weren't getting much traffic to our site. Back then, my wife, Jules, and I were working part-time while we had a concession (a small space in other people's stores) in Solihull shopping centre. She was always on the look out for little areas for pop ups and eventually found a spot on Appear Here in 2016.
See the gallery below for a selection of Vincent Van Doodle's movie prints for sale on their website
She noticed that LinkStreet in Birmingham, between the Bullring shopping centre (a shopping mecca) and Grand Central Station, which had been a right rough little street when I was growing up, had £10 million quid chucked at it and was completely changing. There were four or five little kiosks opening up and the landlord was offering pretty good introductory rates for new local independent retailers.
I thought, 'I'll give it a go because it's a good place to test the business. If it doesn't work there, it's not going to work.'
We jumped at it and booked in two weeks to start with. At first, the kiosk cost £650 per week and we got two weeks for £1,000. It may sound a lot but compared to a trade show, which costs thousands of pounds down at the O2 or Olympia, it's quite cheap. Most of the shop was fitted and ready to go and it gave us the opportunity to put our product forward to the passing public rather than just trade show people. The strength of the footfall also means we don't have to flyer outside, which is something I've never liked the thought of. Thankfully it worked and they kept us on.
Moved from a kiosk to a pop-up
We've then moved up to a larger 500-600 sq ft pop-up shop – about the size of a Greggs and signed a two year contract. We got a unit in time for Christmas then weathered that trading period while growing steadily without getting ahead of ourselves.
Starting from scratch is daunting
Even for a person whose always been at book management level, the thought of starting a retail unit from scratch after only running a website for a few months is quite daunting. You've not only got the financial risk but other complex issues like:
It's a massive minefield and if you get your pricing or your product wrong you're going to struggle.
I think it's also a big deal for Bullring because they're not used to this climate of little independents starting up who don't quite know the rulebook. They're used to the big brands, the Next and the Nando's coming in who know what they're doing.
We've improved the shop slowly
Having worked as a designer and my wife being design led enabled us to get a lot of market material in like a logo, the shop window and we shop-fitted it ourselves. The cost of getting shop-fitters in would have been astronomical compared to what we were able to afford. So over the last two or three years we've just tried to improve the shop on a monthly basis. We've put new fixtures and fittings in, got better product representation, much better details on the shop floor, improved the wallpaper and improve the lighting. However, we still need to improve our website which is terrible. When it comes to our pop-up shop it looks like we know what we're doing. At the beginning we hadn't a clue but we've managed to blag it!
From what was a quick, 'do you want to come in for two weeks and try things and pop a few bits of artwork on the wall' has now turned into a fully blown contract! Hopefully we will be here for another two or three years.
We'd like another unit and continue to grow.
Watch the below video on how to design a pop-up shop