An online survey can be a useful way to connect with your customers while learning more about their likes and interests.
They go way beyond SurveyMonkey, with plenty of platforms offering creative, fun and interesting poll building services. Use them to assist in product development, measure customer satisfaction, establish market trends or test a campaign.
Key survey features which can help your business
If you're new to survey tools, you may not know which features to look out for – but some of these might swing your decision.
Common features include:
Question types
Options to skip
Data export
Customisation
Reporting and analytics
Automatic data collection
Embedding
Surveys in different languages
App integration – Salesforce, Google Sheets, Google Docs, HubSpot, MailChimp
Email marketing
Branching/skip logic – the ability to move respondents to a different question or page based on their response to a certain question
Customisable company branding
What to be aware of
The only real limitations to be aware of are the features that you can't get in the free version. On some platforms there's little difference between the free and premium versions whereas others are stingy in their free offering.
We've included some of the features in the paid-for versions to give you an idea of how generous the free versions are and in which areas.
This is the first name many associate with online surveys.
However, they only give users the option to send surveys with up to ten questions and view up to 100 responses per survey. That's pitiful compared to other platforms, suggesting that they might be resting on their popularity rather than offering a competitive product.
There's no opportunity to trial one of the paid versions either, so you'll have to dive straight into payment if you want to have a go. Beware: they auto-renew on their premium plans so it's easy for the annual payments to sneak past you.
On the positive side, it's easy to use for beginners or somebody looking to do small-scale research and you've got plenty of online tutorials if you get stuck.
Extras in paid versions: Shared asset library, unlimited surveys, unlimited questions and unlimited responses, multilingual surveys, accept payments.
Price for paid versions
Individual Advantage: 36€ a month (~£33)
Team Advantage: 30€ a month (~£28)
Enterprise: Bespoke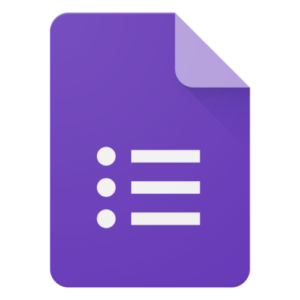 Google Forms is another one you may be familiar with. It's very simple to use and you can follow up your research by analysing data in Google Sheets.
The personal version is free but the business versions come with a monthly cost, so again, it's better for small-scale research.
It's impressive for a free service though, with the ability to insert images and YouTube videos combined with the collaboration capabilities you see in Docs, Sheets and Slides.
Extras in paid (business) versions: Unlimited cloud storage, business email through Gmail, shared calendars, data loss prevention, quizzes.
Price for paid versions
Basic: $6 per user per month (~£5)
Business: $12 per user per month (~£10)
Enterprise: $25 per user per month (~£20.50)
ProProfs Survey Maker say that they believe their software can help you work better, get smarter employees and create happier customers.
The free version includes unlimited surveys, poll maker, templates, reports, custom scoring and results and custom branding. These are easy to create with no coding experience necessary.
A 15-day free trial is available on all of the packages.
ProProfs' free version is ideal for those who just want to create a large number of surveys. If you want more in terms of company branding on your surveys, customer support and advanced reporting, go with one of the paid options.
Extras in paid versions: Integrations with Mailchimp, Salesforce and WordPress; sidebar forms; pop-up surveys; custom welcome and thank you screen
Price for paid versions
Essentials: $0.05 per response per month (£0.04). For 500 responses a month, you'd be paying $300 (£228) a year.
Premium: $0.10 per response per month (£0.07). For 500 responses a month, you'd be paying $600 (£456) a year.
Even on the free version of Toluna QuickSurveys, you have unlimited surveys and questions with real-time reporting. Share your surveys with links and embeds as well as through social media.
In addition to your own customers, you have access to Toluna's global community to boost your market research efforts.
Extras in paid version: Advanced filter logic, unlimited email invites, advanced reporting and analytics, custom end pages.
Price for paid versions
Premium Feature Plan: £60 per month
Crowdsignal offers unlimited polls and surveys that lets you add quizzes, polls and images. You can integrate the platform with WordPress for an easy-to-navigate dashboard.
The company changed from PollDaddy to Crowdsignal in November 2018 so it's still fairly new. When comparing the price plans, one drawback that we could see is that the free version has Crowdsignal branding which may conflict with your own branding, especially if you're more established. Poll voting and report filtering are limited too which could hinder your goals.
In comparison to the premium versions, the free one doesn't present much.
Extras in paid version: Multiple user accounts, advanced reporting, use your own domain name.
Price for paid versions
Pro: $17 a month (~£14)
Corporate: $75 a month (~£61.50)

On first glance, SurveyPlanet is a more visual platform which is more suited to a creative company or brand. The free version gives you unlimited surveys, questions and responses, plus the ability to delete unwanted participants, embed surveys and put them on social media.
It has a responsive layout for those expecting a lot of answers via mobile. What's more, surveys can be presented in over 20 languages including English, Spanish, Chinese and Arabic.
You get a lot in the free version so it may not be worth your while going for the Pro functionality, especially as it's hefty on the price. It costs around £148 a year for one user but each further user will be added at a discounted rate.
Extras in paid version: add images, export results, custom themes, question branching, survey length estimate.
Price for paid version
Pro: $20 a month (~£16.50)/$180 a year (~£148)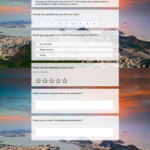 SurveyNuts offers up picture polls, open-ended questions and your respondents can upload files to aid more qualitative research. Multiple question types can be included in one survey and of course, you can create a quiz if you prefer.
Extras in paid version: Unlimited questions, unlimited responses, export, view individual answers.
Price for paid versions
Basic: £17 a month
Pro: £25 a month
Plus: £39 a month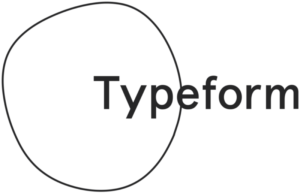 Typeform is known as the conversational survey creator, where you can insert GIFs, images and video as well as creating a customisable welcome screen. It also has Google Sheets and MailChimp built in.
TrustPilot reviews are overwhelmingly positive, with many commenting on the beauty of the surveys. Note that it's very expensive for both paid versions so if  you want to go a step up, make sure you're using Typeform regularly.
Extras in paid version: File uploads, respondent notifications, logic jump.
Price for paid versions
Pro: £24 a month
Pro+: £46 a month
Gathering customer feedback is a great way of understanding what customers think of your company, brand, website, and products. One established way of gathering and measuring feedback is using the Net Promoter Score (NPS). This is used by millions of startups, growing businesses and multinationals to understand what drives customer satisfaction and so improve their service to their customers.
There are a number of providers of specialist NPS customer satisfaction software including SightMill; this software lets you send out surveys to customers by email, by text message, or add surveys to your website, or at events. Two of the most popular ways of sending gathering feedback are to use emails and to add surveys to your website.
SightMill includes email templates to get you started in minutes and there's a WordPress plugin to get you up and running. All the advanced features are included in all plans, so you can measure and act on feedback in real-time to help improve your customer experience. The same software and method is also used to measure employee engagement – often used by businesses with over 50 employees.
Price for paid versions
Primer: $25 per month (~£22)
Starter: $49 per month (~£44)
Growth: $99 per month (~£88)
Professional: $199 per month (~£180)
However, SightMill offers a free trial available to get you started – sign-up now.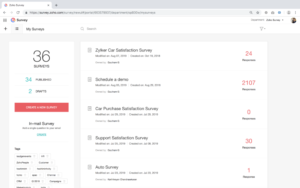 You may have seen Zoho before – they also offer CRM systems. On its survey side, you can embed your unlimited questionnaires (with up to ten questions and 100 responses per survey) and integrate the platform with Slack for easy communication amongst your team. It's got an interface that's clean without being plain and boring and you can add a quick-fire sample question by email for a snappy return.
You've also got the ability to share on social and export to PDF.
Extras in paid versions: Real-time responses, multilingual surveys, Shopify integration, Zendesk integration.  
Price for paid versions
Plus: £20 a month
Pro: £25 a month
Enterprise: £60 a month
Priding itself as an alternative to SurveyMonkey, the free version of SmartSurvey lets you create unlimited surveys (with limited questions and responses) and two tracking links as well as delivering your survey results in real time.
Despite its description, users have criticised the platform for its lack of analytic capabilities so if you're doing detailed research, keep this in mind. It has been praised for its strong support team and ease of use, though. SmartSurvey is more for formal and professional businesses.
Extras in paid versions: Multiple user accounts, unlimited questions and responses, custom themes and branding.
Price for paid versions
Pro: £22.50 a month
Business: £45 a month
Enterprise: Bespoke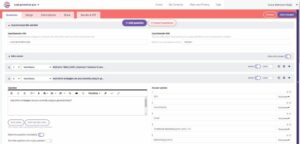 Survey Anyplace offers up unlimited questionnaires and you can even gather responses offline, with the ability to filter your reporting and data in many different ways.
As you can see, the interface is a little bare, but the platform has a lot of capabilities, including quizzes.
Extras in paid versions: Scoring for questions and answers, multiple languages, formulas, extended design with CSS. 
Price for paid versions
Essential: $25 a month (~£20.50)
Professional: $42 a month (~£34.50)
Enterprise: Bespoke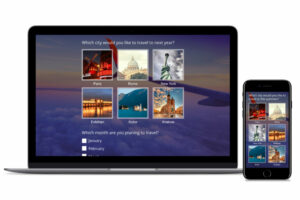 SurveyLegend lets you create three surveys with unlimited questions and responses on its free offering.  Layouts are colourful and visual which is perfect for developing a product or getting to know customers in a more fun and light-hearted way. Live analytics let you see what's coming in and identify early trends but unfortunately you can't filter the results for deeper insights.
Again, they're ideal if you're expecting a large number of mobile responses as you can use mobile-friendly themes. Plus, you can pep them up with emojis if that's in line with your branding.
You can't export data unless you go for a paid package though, which will be a significant sticking point for some businesses.
Extras in paid versions: Unlimited surveys, pictures and responses, advanced branching, data filtering.
Price for paid versions
Pro: $15 a month (~£12.50)
Business: $25 a month (£20.50)
Legendary: $65 a month (~£53.50)
So, which of these free online survey platforms is the best?
This will vary depending on what kind of business you are and what needs you have. It's clear already that there are some stronger than others, but let's break it down by type of business.
All-rounder
SurveyPlanet are a major contender as they provide so much on their free version, covering a great deal of your business researching needs.
For sharing
Toluna QuickSurveys gives you the option to share your unlimited surveys just about anywhere on its free version and each survey is mobile-optimised.
For customising
Typeform gives you the ability to add GIFs, images and videos and make a custom welcome screen.
For international audiences
SurveyPlanet works for small businesses reaching a global market. It's one of the only free versions to offer multilingual surveys.
Read more
The essential guide to customer churn: what is it and how do I reduce it?