The customer is king. That much has always been true. But, in the digital era, customer demands have changed, largely due to the ever-increasing competition enabled by the internet and technology. Data-driven marketing and a level of personalisation not yet seen before have meant that customer loyalty is hard to maintain; there is always another competitor waiting in the wings to offer a more tailored and appropriate product – it's simple, traditional website browsers are not converting leads to sales. A modern, tech-led approach is needed, and Live Chat might just be the solution you're looking for.
Live Chat to customer conversion success
By offering website visitors (and potential customers) the opportunity to speak to the business exactly when they want to, and in a way that is convenient to them, businesses looking to gain the upper hand over their competitors will significantly increase their website conversion rate.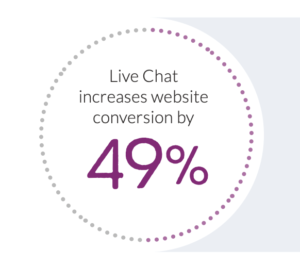 But it is not enough to simply install a Live Chat feature. The technology needs to be proactive; it needs to prompt the user to engage with the business or product, rather than standing idly by in the background waiting for the potential customer to click. This proactive approach, like that of a go-getting salesperson, will turn a casual browser into a lead.
This type of Live Chat capability on a pure e-commerce website has a transformational impact, increasing purchases by 35pc. It's logical, the majority of customers will abandon a purchase if they can't get their specific questions answered quickly – an immediate response, delivered by an intelligent live feature, will reduce these abandonment rates and increase customer conversion success.
An immediate response
A Live Chat response needs to be immediate, it needs to be accurate and it needs to answer the question of the customer. And increasingly, this interaction will take place outside of "normal business hours" – people are busy and are increasingly making purchasing decisions after work when they are at home. In fact, over a third of chats occur outside of the standard working day, for calls this is more like 10pc. The ability to offer an extended hours or even 24/7 service is desirable – businesses will see a big uplift in the number of enquiries and ultimately, successful conversions.
'In the on-demand economy, customers want instant gratification and a live chat feature that is responsive'
Resistance to change
Despite the obvious benefits of a live solution, many businesses do not have one; they are skeptical and resistant to change. There are several reasons for this:
They think no one will use it – some businesses believe a Live Chat tool will be underused, but in reality 42pc of people regularly choose it over other methods of communication.
It's overly technical – this is not the case. All businesses need is a website and downloading the actual Live Chat software is as simple as copy and paste.
My business is too small –– SMEs can benefit the most from offering a Live Chat service; it's a key differentiator that can stand them out from the competition.
Who works the Live Chat? Business control when the Live Chat appears on their website: if you're not online to manage chats, the chat window will disappear. But a trend is emerging; increasingly businesses are outsourcing the management of their chats. Businesses shouldn't go it alone and providers like Moneypenny offer overflow support, giving businesses flexibility to chat when they can, and outsource the rest.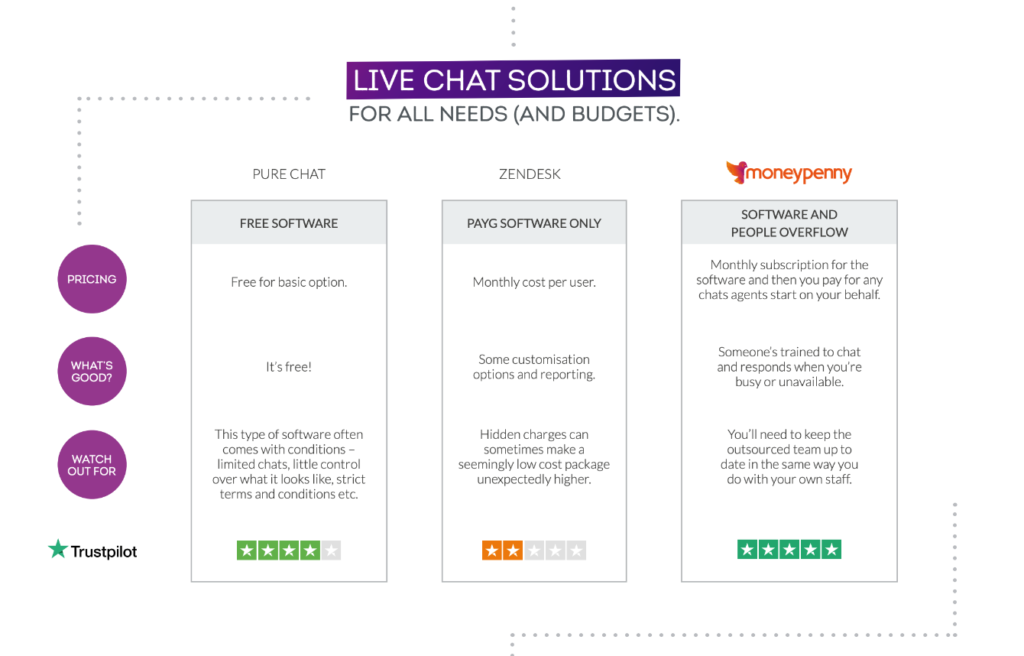 Customer case studies
It's all well and good presenting a solution, but as a business, you shouldn't be expected to take our word for it –– you need to see the impact of Live Chat in action. Here, Moneypenny provide two customer case studies.
Clothing Boutique
One of our customers was looking to buy a jacket they'd seen online but it was out of stock. They called us to see if we could get one from somewhere else but the line was busy. Luckily they started a live chat with us and we were able to pre-order it for them – resulting in an order worth £129 that we would have otherwise missed out on.
Estate agent
The big "DIY" online agents have changed the landscape we work in and we must do everything we can to keep up. By adding Live Chat to our website, we can compete by engaging those "casual browsers online" and, when they are considering us, build a relationship with them to get that all-important first enquiry.
The Live Chat solution for your business: Moneypenny
This is the level of interaction customers expect in the digital era and is something that Moneypenny can offer: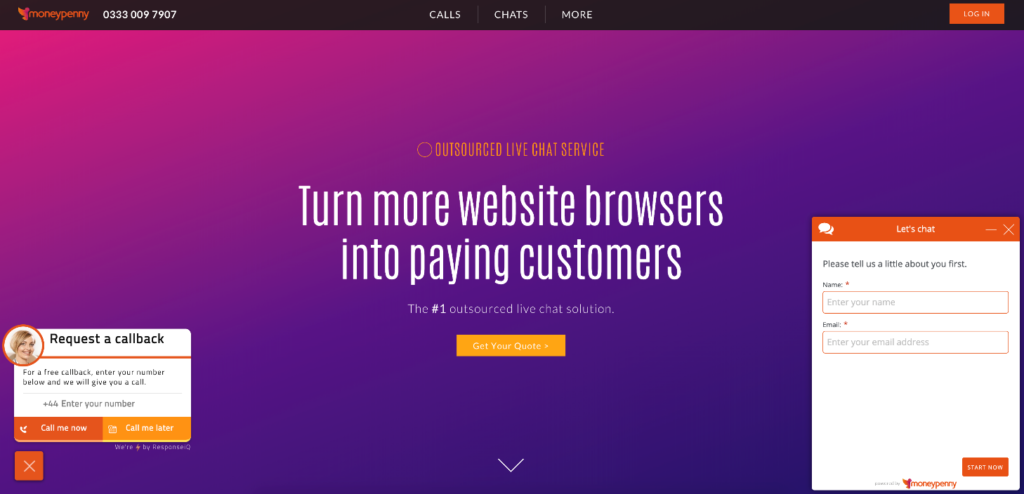 The solution is revolutionising the way businesses manage their Live Chat.
Moneypenny combines gold-standard software with the support of real people in the background to ensure no chat goes unanswered. Its complete people and technology solution is the ultimate Live Chat service for any business keen to maximise the value of every website visitor.