A new year tends to be the most motivating time to shake off worn-out excuses and in the encouraging words of a sportswear brand, "just do it". For business ideas that look a safe bet in 2023, here are six to consider.
And the opportunity is out there.
This year can be summed up as post-pandemic, climate-conscious and amid a recession. That amount of change and uncertainty is the test tube in which innovative ideas come to life, so you may already have an idea which is completely unique. One venture capital investor told me recently that this environment is when the best investments are made.
6 best small business ideas for 2023
#1 Elderly care services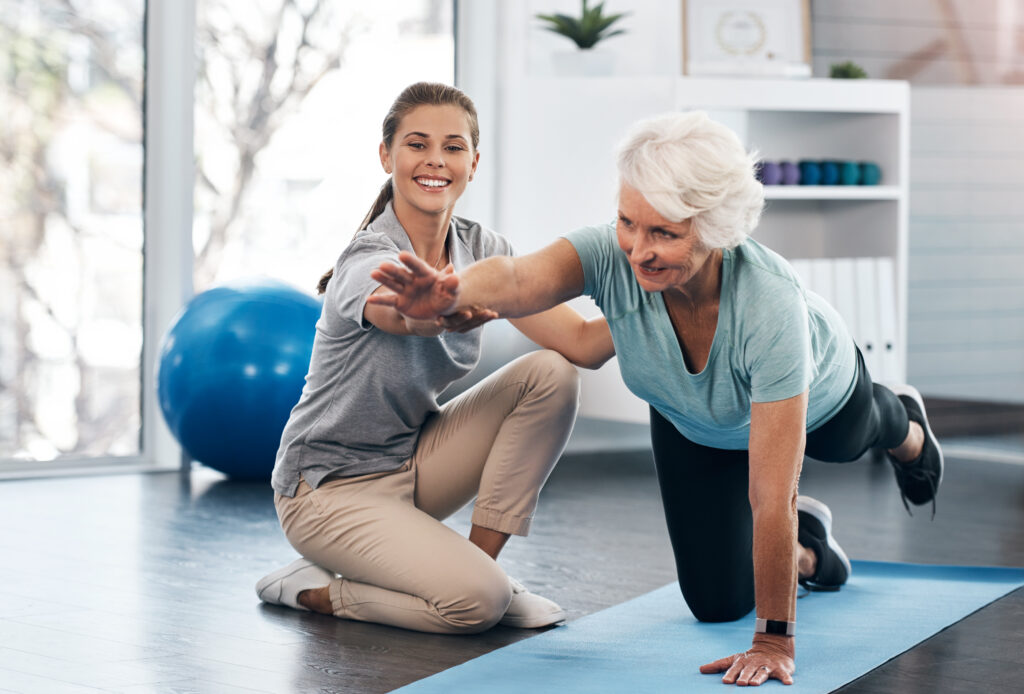 It's worth looking at recession-proof industries, and this one exists on the streets you walk, drive past and live in. Plus your job won't be displaced by artificial intelligence. Any job to do with touch is a safe bet.
The country is getting older and lonelier.
There are more older people now than ever before in the UK, with almost one in five of the UK population over the age of 65. More than 40 per cent of these retirees consider the television to be their main companion.
Some new businesses have sprung up this year to help solve the loneliness problem, like The Joy Club, a community-based platform which helps retirees discover events, hobbies and make friendships.
There are numerous ways you can help the older population, though.
What services are needed?
The elderly do not always have family or friends to rely on, so home services such as window and gutter cleaning, technical help with electronics and gardening are all viable examples of businesses that could be in demand in 2023.
There is also demand on the medical side such as physiotherapy. Medical care or medical tech such as digital therapy platforms can help reduce the workload on the NHS, which is facing all-time high waiting lists.
How do I become a geriatric physiotherapist?
As a geriatric physiotherapist, you can be responsible for managing arthritis, osteoporosis, Alzheimer's, hip replacements and co-ordination problems.
Day-to-day assessments will involve going out and evaluating a patient in their home setting. The individual's routine, habits and social life are all considerations before making recommendations to maximise the individual's independence.
The primary qualification you'll need is a BSc degree in physiotherapy or geriatric physiotherapy which is approved by the Health and Care Professions Council (HCPC). Full-time courses take three years, while part-time courses take six years to complete.
To be self-employed, you'll then need to register with the HCPC and it's worth registering with the Chartered Society of Physiotherapy (CSP) to update your skills and training.
You'll need a permanent base to work from, so it's worth looking to see if you are able to work with a local health centre or physiotherapy clinic. Get a website up and start advertising.
How much can I expect to earn?
The average salary for a geriatric physiotherapist in the UK is between £34,000 and £41,000. As self-employed, this will vary and can rise steeply from that figure depending on experience, reputation, location, how much you charge and any specialist skills.
Hours per week tend to be 37.5 and can involve working weekends.
>See also: 6 best small business ideas for 2022
#2 Online tutor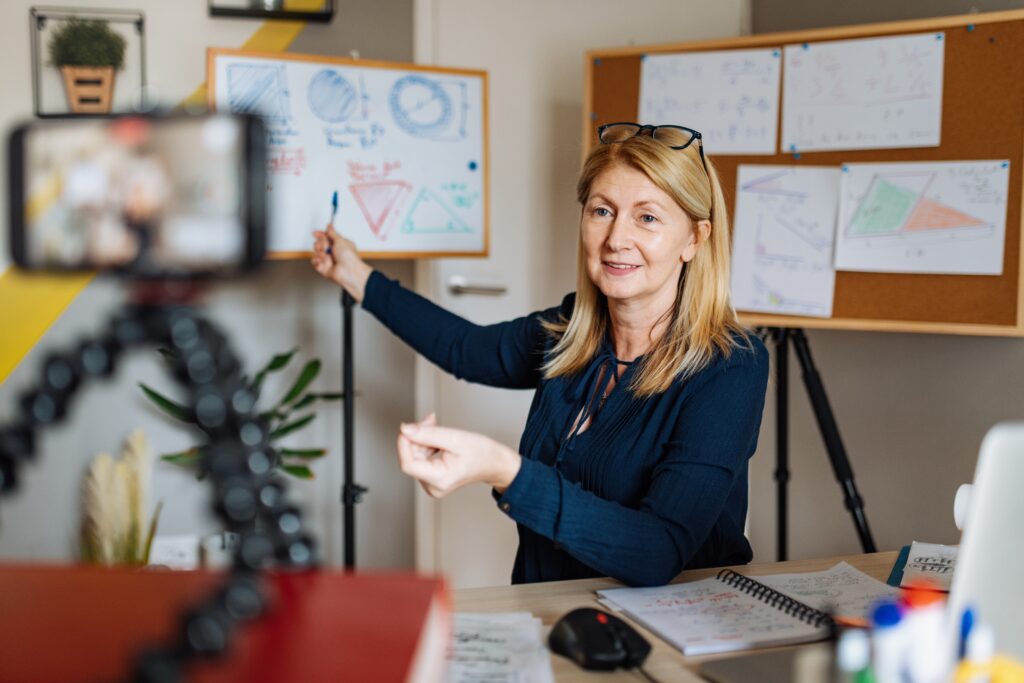 Being an online tutor now is not just the norm – it's got a huge future in the metaverse.
Several institutions have already entered this virtual realm, like the Neoma Business School in France.
This digital world of avatar students, digital lecture halls and virtual campuses may still seem a long way off, it is one which is set to grow substantially over the next five years – and you can be part of it.
How do I become an online tutor?
Strategies to consider that will put you in good stead for bagging a role as an online tutor include getting or utilising a master's degree or PhD in the subject field you wish to teach.
"With better qualifications you can charge higher rates and you will tend to find it easier to secure clients," Sebastian Weiss of The Geography Tutor says. "A university degree and if you have a teaching qualification like PGCE, even better.
"You don't have to register with any bodies, I am not myself. Equipment needed is a laptop, headphones and a good internet connection. Some tutors like to use online whiteboards, myself included."
You may also need to get qualified teacher status (QTS) or partake in a postgraduate teacher training course at university.
According to Gov.uk, entry requirements tend to be 4 or 5 GCSEs at grades 9 to 4 (A* to C) for a level 3 course and you'll need to be DBS checked.
"I would say you really need to be an expert in your field, exam requirements and exam technique," Weiss adds. "My lessons are very exam focused and this has worked well in terms of grades.
"In terms of getting students, it will take time and you have to start with a lower rate, then rely on word of mouth, which takes time and good feedback. I would advise to work with several good agencies to start with and consider giving short free trial lessons."
Like all these on the list, you'll then have to register as self-employed to HMRC – which means completing a self-assessment every year.
How much can I expect to earn?
As a virtual tutor, you can expect to work 37 to 39 hours a week and earn in the region of £36,000 according to Glassdoor. Hourly rates can vary from £30 to £50, depending on subject matter, experience level and level of tuition.
>See also: 5 best ideas to start a small business post coronavirus
#3 Repairer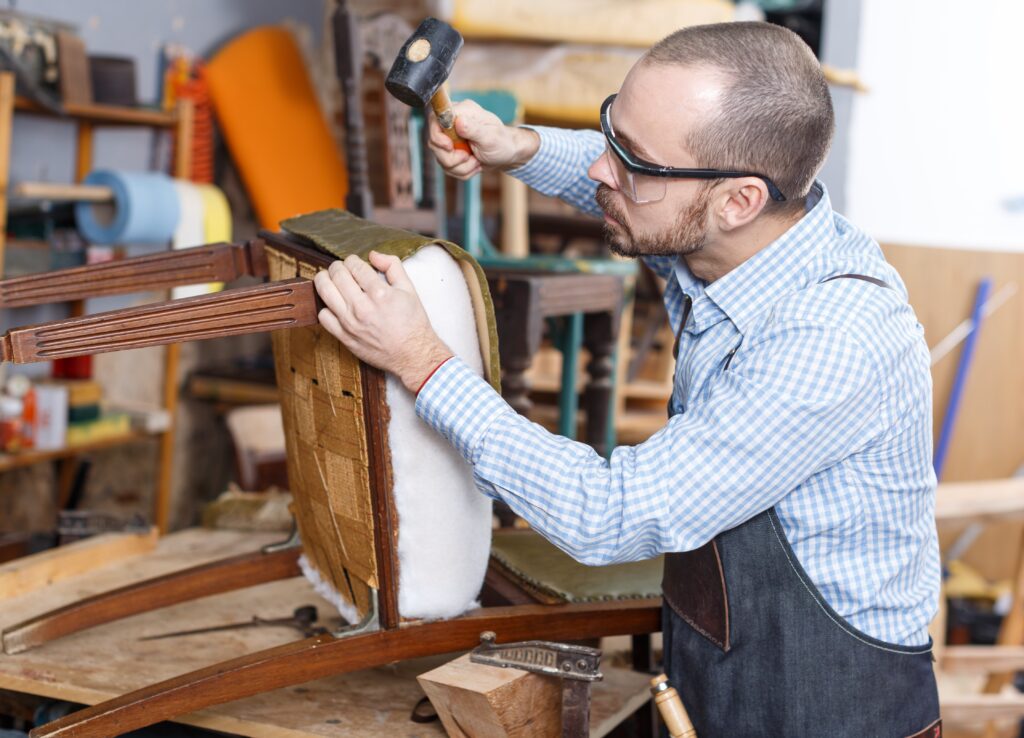 Furniture, upholstery, clothing, even computers. The opportunity of making money in repair work is the result of the need for more sustainable living. The circular economy has come full circle from the days of make do and mend.
There has also been the success of The Repair Shop to get us reaching for the work apron.
Let's take upholstery as an example.
How do I become an upholsterer?
There are two avenues you can go down to break into the industry: an apprenticeship or a course. As you'll be looking to self-employed, it's worth looking at the latter.
A course in upholstery typically takes 36 weeks. Courses include:
Level 2 Certificate in Upholstery
Level 2 or 3 Diploma in Furnishings – Traditional Upholstery
Level 2 or 3 Diploma in Furnishings – Modern Upholstery
Once you've completed one of those, it's good to find your own workshop, but sometimes you could work at the client's home.
Your day job will be planning work, advising on fabrics and cutting fabrics to the correct length.
As well as home furniture, you could also work on vehicle and aircraft interiors.
How much can I expect to earn?
The average salary for an upholsterer in the UK is £20,240 with the average hours per week at 34. For a self-employed upholsterer, that salary can rise to £52,000, however.
#4 Videographer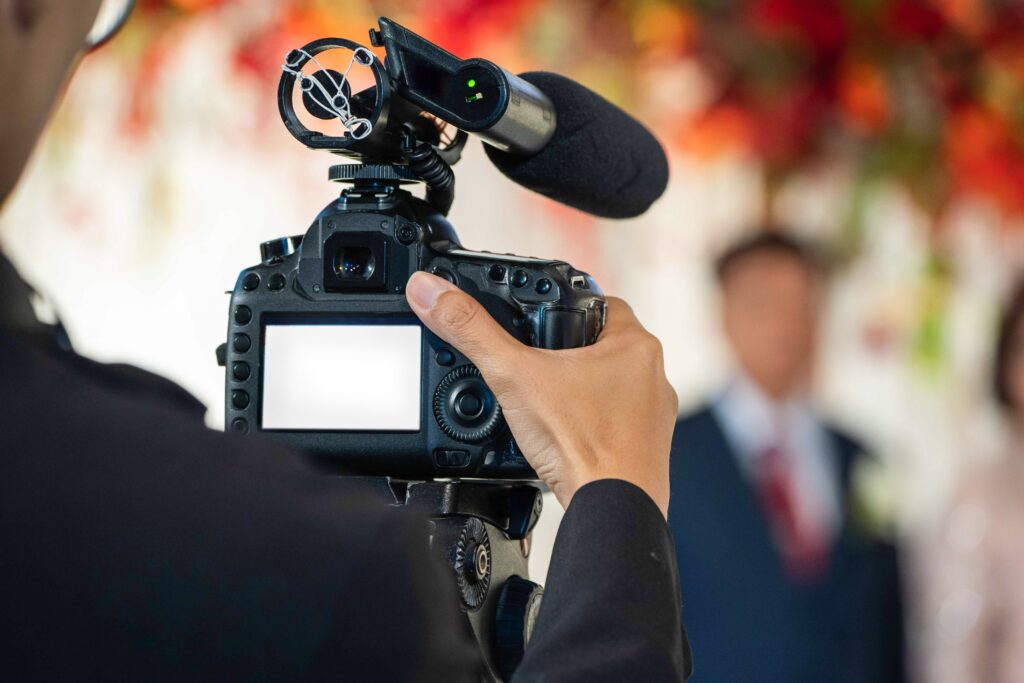 Videography is widely sort after by marketing departments as a way of showcasing their company, product or service on websites and social media. It's a powerful tool as Google starts ranking videos highly – so companies are becoming increasingly interested in the skill.
It's a versatile career path, too. Not only can you be a commercial videographer, you can film weddings as more newlyweds are choosing video in addition to photography to capture their special day.
How do I become a videographer?
A formal qualification isn't required to have a career as videography, and many videographers are self-taught. However, a media studies degree can be a good option to get to grips with the basics, foundations of how to hone your style and understand how to use video editing software.
It is also worth looking for apprenticeships or shadowing a professional videographer by helping carry equipment, so you can start understanding the processes and gain knowledge.
Videography can be a solitary job, so there's nothing stopping you from building your own portfolio by doing small gigs yourself when starting out or practising on your own – something Sam Charlesworth at The Camera Guys advises.
"You can get really good cameras now, starting at around £400, combine that with a couple of prime lenses, some good sound gear and a relatively good computer to be able to edit the footage, you're looking at £1,800 to £2,100 to get into the industry," he tells me.
"Do a lot of research first. Watch a lot of videos like the Wedding Film School on YouTube. Contact some videography companies – some will be willing to train you up.
"Most of my job – 80 to 90 per cent – is working from home, whether that's admin or editing. When I am out and about, it's all over the country, sometimes abroad and it's different every day so it's interesting."
How much can I expect to earn?
The average salary for a videographer in London is £42,000 and you can expect to work around 37.5 hours per week. It is worth noting, however, that some days can be long when shooting – sometimes up to 12 hours – so it's good to be physically fit. On other days, you may be glued to a chair editing from that day.
#5 Tattoo artist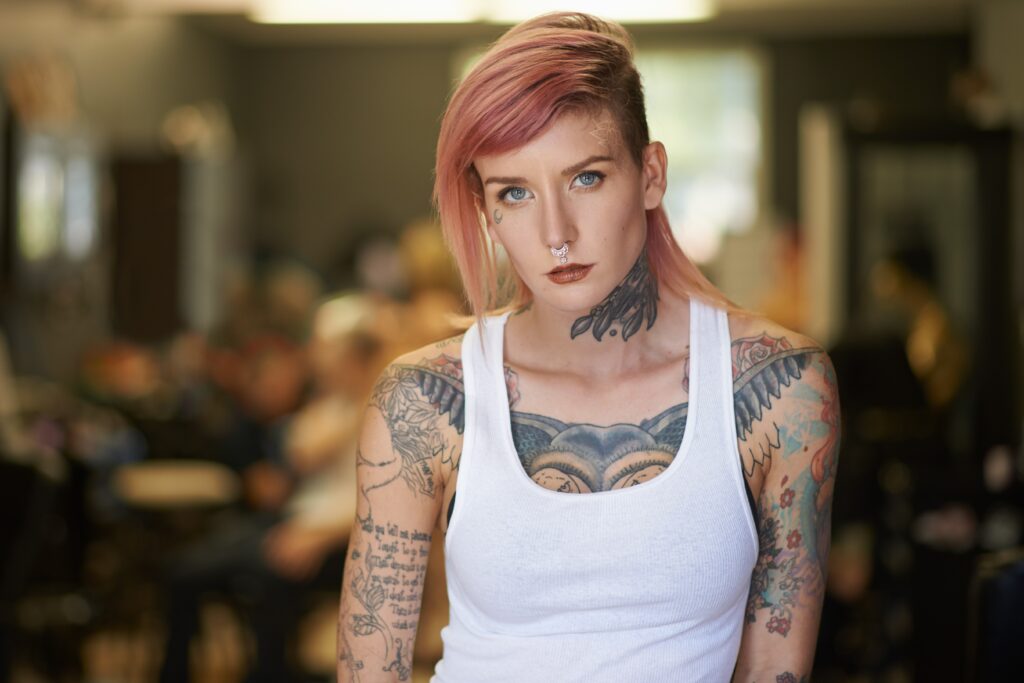 Café shops and tattoo parlours are taking over more empty shopfronts on our highstreets, according to recent reports, which sends a clear signal that now could be a good time to think ink.
It is estimated that one in five adults in the UK has a tattoo, with that figure rising to one in three for young adults.
How do I become a tattoo artist?
The two main avenues to go down before you start with the ink is to get a licence and work as an assistant at a tattoo parlour or body piercing studio.
You can undertake a course at institutions like the UK Official Tattoo Academy. This is a 10-day intensive course over two weeks, consisting of drawing designs, colouring techniques, and understanding the difference between needles. Courses tend to cost in the region of £3,000.
Once you're qualified, you can look to start up your own studio.
How much can I expect to earn?
Working hours can range between 30 and 40 hours a week and you can expect to be taking home in the region of £37,000 once fully established, according to Indeed. Go self-employed, and you can expect to take home anything from £20,000 to £60,000 a year.
#6 Freelance programmer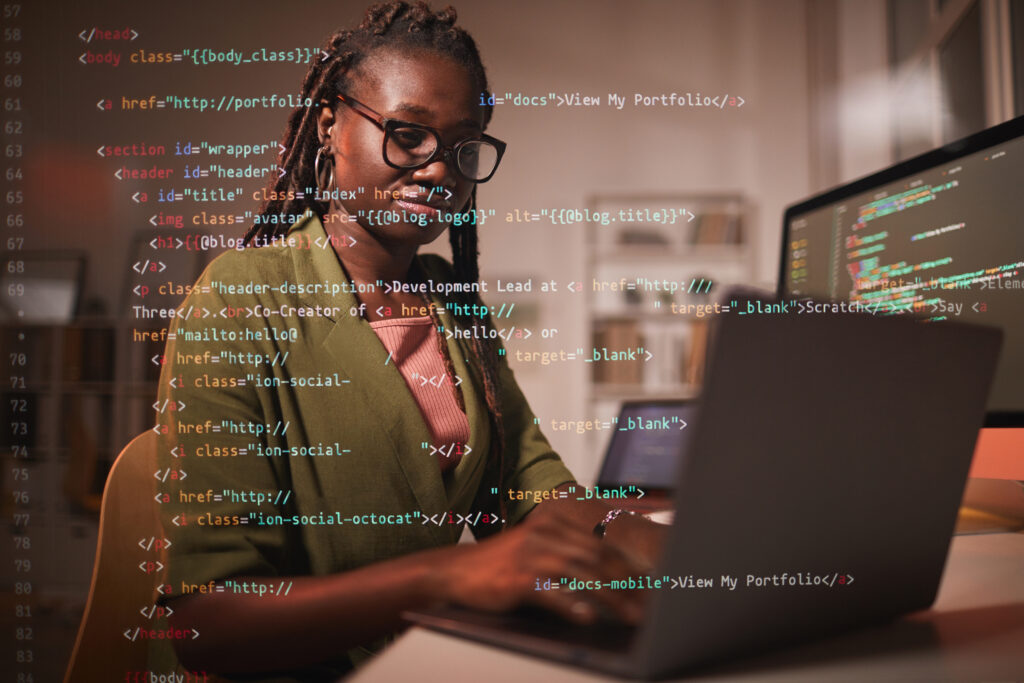 If we're looking at industry trends alone, coding is big business. There's plenty of demand with a shortage of developers worldwide and the promise of an attractive salary makes this one venture to consider in 2023.
How do I become a self-employed coder?
A degree in computer science is the widely accepted path into the industry and you should look to build up your own programming portfolio on the side of your current job first.
It is then beneficial to sign up to a developer course if you don't already have a background in the industry. There are also courses specifically to help get more women into the coding industry, such as Code First Girls.
There are various specialisms in the coding sphere. Web developing, UX designing, software engineering and data science are just a few.
Once qualified, you can get yourself listed on a freelance marketplace like Upwork or Fiverr and you could find yourself working from home, in a shared workspace or at clients' offices.
"I've been a freelance programmer for over 10 years; it's allowed me to be flexible and fluid with my time and take control of my life and finances," Ryan Gittings says. "It's also gratifying to make decisions and deal with clients directly.
"My advice is to be careful with time management – log off at 5pm! – and create a workspace environment to shut the door at the end of the day and finish work."
How much can I expect to earn?
The current average salary in the UK for a freelance coder is £45,000 and this will only go up once you've got plenty of experience under your belt.
Further reading
How to start a dog walking business – For those who love pooches and want to set up a dog walking business, check out this guide to learn more about how to do it
How to start a dropshipping business – What is dropshipping, what are the advantages and how do you start a dropshipping business?
How to start a taxi business – Driving a minicab or a taxi has many benefits. You can work the hours you want to and supplement another career, whether you are a creative, a tradesman or even a teacher. But the biggest benefit could be the sense of performing a service for the vulnerable