Setting up and optimising a website for your small business is one of the most important things you can do as an owner.
However, paying a professional developer to build you a complex website from scratch can cost thousands of pounds upfront.
But the internet can be a difficult place to navigate alone. There is coding to understand as well as negotiating and bidding on Google AdWords and graphic design considerations to make.
Here, we'll take you through the step-by-step process of setting up a website for your small business using a website builder. You don't even need the tech know-how.
>See also: Top social media tips for small businesses
How do I get a domain name?
Once you have the name of your business, you'll need to buy a domain name. This is your website name and it should be the same name as your business.
Once you are clear what business name you are going to use, search on 123reg.com, Go Daddy or fasthosts.com to see if your name has been taken. If it has, don't fret.
Both the UK domain (.co.uk and .uk) and Verisign (.com) have widgets for choosing domain names.
>See also: Top five online businesses you can start today
You may have your heart set on a .com or .co.uk domain name but if this isn't available or is too expensive you can always use a less common domain like .uk for UK-based firms.
Google UK gives more prominence to UK domains, so it could potentially rank higher than one with a .com domain.
If you're launching a blog or portfolio website, using .me.uk works well too.
>See also: Your guide to starting an online business 
How much do domain names cost?
There's no hard and fast rule when it comes to domain names; they vary in cost from 79p to thousands of pounds a year. They will tend to also be much cheaper for the first year and then increase in price as it auto-renews.
The price will depend on whether it's a brand-new domain name or one that's been registered for a while. It'll also depend on the registrar (company host) and the top-level domain (TLD).
How to choose a name for my business
Make sure your domain name is straightforward and reflects what you do. Closely match your domain name to the name of your business because that's what potential customers will search for.
That said, remember that Google isn't the only way your website will be found. It could be through word of mouth or on a business card; they'd have to type the address into their browser either way.
The name should be easy to recall, say or type. Avoid numbers, long words, words that are difficult to spell, contain more than two or three words and include hyphens.
Domain names have become a key consideration when choosing a business. Some entrepreneurs have gone as far as making up words altogether for their names – think Häagen-Dazs and Google. Having a unique username also gives you a better chance in search engine rankings.
Some opt for tweaking an existing word to make it unique – taking some of the letters out, for example. This has worked in the case of Flowerbx and Flickr.
Talking of SEO, include relevant keywords to your product or market in your name. This is especially true of pre-existing businesses.
Is the name future-proof? There are also SEO issues involved in changing it, so it's best to make sure that it is before you decide.
If you're still stuck, put a keyword related to your business into a search site like AnswerThePublic or Chrome plug-in Keywords Everywhere (KE) and they'll give you some ideas. For example, a search for 'vegan food UK' gives you real-time related searches that people are making, including businesses. They could be the ticket to a strong and memorable business name.
Once you've decided on the name, try and buy the variants of your domain name like .org.uk or.com to prevent confusion.
>See also: Advantages of a merchant account for your e-commerce business
Website functionality
Once you've sorted this, it's important you have a clear idea in your mind of what your website should do. Think about the layout, colours and fonts that you want to use. Then decide who you want to sell to and what the key selling business points are.
It's worth writing a page or two about your brand and what your vision for the website is and how you will achieve it.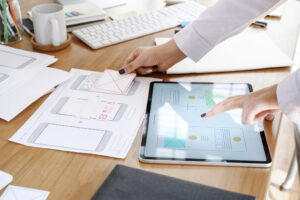 Decide how you are going to draw people into your site: it could be through striking images, a video, a customer testimonial or something completely different.
Look at three or four of your industry peers that have a website you like and suss out what it is that you like about them. Having a clear idea of this first will make the process of building a website much easier in the long run.
Website builders and CMS
There are a wide range of website builders available for small business owners. These are:
Gives you template pages, SEO support, logo support and storage from £4 – £21 a month
There are extra plug-ins available like payments from providers such as Stripe and PayPal
Wix has a Trustpilot Score of 4.5 based 7,258 reviews. However, it doesn't have any Google reviews
Overall, Wix is your best bet if you want a flexible website builder with lots of apps to plug into your website. One example of a small business that uses the platform is wedding cake firm, Cotton and Crumbs. 
Squarespace offers you bandwidth and storage, up to 1,000 pages, encrypted security and 24/7 customer support from £12 – £35 a month
It has around 200 plug-ins
It has a Trustpilot score of 1.5 based on 709 reviews. Again, it doesn't have any Google reviews
Squarespace is a good option if you want a good-looking site, perhaps for a fashion or trendy food and drink product.
Examples of small businesses that use Squarespace:
VR training business, InSilico
Beauty brand, Lauren Napier Beauty
Chocolate brand, Ocelot Chocolate
All these site builders provide drag and drop website templates for your website and tend to work well for simpler websites.
Website builders may work well for e-commerce sites but can struggle to provide value for some tradespeople. As well as having their own website, it's wise to use a search tool like Trust A Trader when it comes to marketing their services.
Emanuel Tomozei, co-founder of InSilico and Squarespace customer says that if you really want to make your website in your own unique style you need to learn to code. 'Squarespace is fine if you're happy with their templates, a lot of which are really nice.
'But if you want to customise the templates yourself, for example, creating images that move as you scroll up and down the page this can be problematic. For me, it worked well for desktop but didn't look right for mobile.'
It has a variety of website building packages from basic (£4.99 a month), standard (£7.99 a month, premium (£11.99 a month) to e-commerce (£13.99 a month)
The builder has functions to optimise your website for search engines, create email marketing campaigns and have a business listing on Google
GoDaddy has a Trustpilot score of 4.7 based on 55,145 reviews
GoDaddy is a good one for beginners as it's easy to use and the websites look great on mobile.
Examples of websites that use GoDaddy:
MOT, servicing and bodyworks firm, Motaworx Service
Physiotherapist, Focus Muscle Therapy
Mettrr will build and help maintain a website for you for £20 a month
If you don't want to commit to an annual fee, you can pay quarterly for £30 a month or monthly for £40 a month.
It has a Trustpilot score of 4.8 based on 277 reviews
This is a good site for people with limited tech skills and limited time who just want someone else to design and populate their site for them. It's worth knowing that if you want to make a change to your site, you must call Mettrr and they will make the change for you.
An example of a small business that uses Mettrr is garden landscape firm, M Buck & Son.
Others website builders include Weebly which offers unlimited storage, site analytics, video and SSL security for £18 a month (when paid annually). It has a Trustpilot score of 1.7 based on 612 reviews.
And then you have Mobirise which has a Trustpilot score of 4, but it's only based on 25 reviews.
Domain provider 123 reg also offers website building services.
All of the mentioned website builders allow you to create a mobile optimised site.
Originally used by bloggers, content management system WordPress can be a good solution for you if you have moderate tech skills and want to create a fairly complex website. It has thousands of free plug-ins, including ones for e-commerce.
It now powers 30 per cent of the world's websites, according to Venture Beat.
An entrepreneur and freelancer account costs £7 a month and a business account will set you back £20 a month, which gives you access to Google Analytics as well as storage and theme templates.
How to create an online payments section for your website
Of course, if you're selling online you will be dealing with debit and credit cards.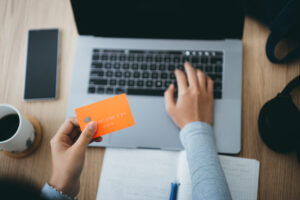 However, as a small business, not everyone will have heard of you. It's vital to show your customers that you can be trusted when it comes to online payments as well as being able to create content.
The website builders also allow you to integrate the most popular payment methods into your e-commerce site.
Online payment provider Stripe, integrated into Squarespace and Wix, allows you to reach most of the credit/debit cards that people have in the UK and Europe.
PayPal is also a useful payment tool to have on your site because as a small business not everyone will know your name and may not trust you completely (yet). To prevent the customer pausing and potentially abandoning your site, PayPal encrypts user payments and gives them extra safety when dealing with you.
This means that small businesses get paid straight away but customers don't pay for the item until they've received it. There's a 14-day allowance for this.
"PayPal is a useful payment tool because as a small business not everyone will know your name and may not trust you completely"
Providers like WorldPay and Sage can also process your payments for you.
Whichever way you decide to design your website for your small business, be honest with yourself of how tech-savvy you are and also consider how much control you want to give over to website builders.
Once you know this, as well as your brand vision, you should have a good idea of how you are going to build your website.
E-commerce website builders
If you'd prefer to go for an e-commerce platform, you have a few options. Here are two of the most popular:
Shopify has an app store where you can add features and functionality – it has over 2,200 apps that integrate directly with Shopify
Shopify experts are on hand to help you set up and run your site
It is rated 1.4 on TrustPilot based on 631 reviews
Shopify is a good call if you're interested in launching an e-commerce site. You can find a business name, buy a domain and create a brand. Explore different ways to sell and different marketing campaigns.
Examples of websites that use Shopify:
Natural baby products and gifts, naturalbabyshower.co.uk
Printed accessories and stationery, nikkistrange.co.uk
Textile designer, lauraspring.co.uk
EKM is UK-based
It allows free migration from Shopify
It has a 4.6 Trustpilot rating based on 2,715 reviews
EKM is a desirable alternative to Shopify for people who want a platform based in the UK.
Examples of websites that use EKM:
Online whiskey vendor, Whiskey Vault
Luxury watch shop, KC Watches
More on website building
What's the best website builder for my small business?
Small business SEO: 6 easy wins to boost your website ranking